Display Taiwan 2007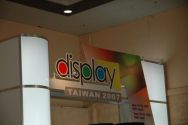 Display Technologies:
Flat panel displays are becoming standard equipment with most OEMS and retailers. Their relatively low cost, energy efficiency, and space saving form factor make them the preferred choice of consumers around the world. The market for TFT LCD's is approximately 5.88 billion USD in revenue, a 3% increase in revenue from 2006 which might not seem like much until you take into account the price of LCD's dropped 30% as compared with last year. The market has nearly limitless applications and manufacturers are incorporating LCD's into everything from cell phones to refrigerators and automobiles. All official sources still agree that the number 1 market for TFT LCD's is still the PC industry which has acquired 85% of all LCD applications while TV's assume only 25%.
Flat Panel Displays:
Display technology is not limited to the TFT LCD. The other major types in order of market share are:
TFT LCD 79.2%
TN-STN LCD 8.8%
PDP 7.6%
Microdisplay 2.8%
VFD 1.0%
OLED 0.6%
Some of you may have noticed that OLED displays while being the newest form of technology are also the least represented in the market. Part of that is due to its relative newness but the majority at this point in time is due to price. OLED's (organic LED) consume far less energy then their TFT cousins while at the same time producing a brighter more vibrant display. Adoption of this technology has widespread almost revolutionary potential for many consumer applications. Imagine if you will a laptop with a brighter, faster, more accurate display that allows your 17" high performance laptop to have a 6 or more hour battery life and use a smaller battery. This is only one of the results that OLED's promise but not the most important. Most revolutionary is that OLED displays are flexible, thats right flexible. Think thin as paper and just as flexible here folks. Current OLED's are very small, prohibitively expensive, and about as flexible as very thin plastic, but manufacturers are putting increasingly more money and time into this technology.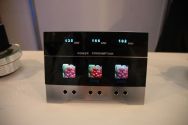 VFD displays are often found in vending machines and radio tuners in cars. These are usually the small 2 line by 16 character green, white, or blue displays that are made up of small vacuum fluorescent dots which glow brightly. Microdisplays have their most common use in rear projection TV's. The recent change in market strategy by Epson, Sony, and Texas Instruments marketing has caused the price of these TV's to fall rapidly. Most savvy consumers can see past the falling prices and see that these manufacturers are converting their manufacturing over to TFT LCD's and Plasma screens.
Taiwan's Role in the FPD Market:
Taiwan produced a staggering $846.6 billion worth of production value FPD in 2006. This has made them the most important manufacturer of TFT LCD's in the world. If you own an LCD panel theres a good chance it was made in Taiwan.
How to Tell:
Windows users can follow the guide below to quickly find out if their LCD is from Taiwan:
Right click on your computer and go to the properties.
Go to Device Manager
Open the Setting called Monitors
Right click on the monitor inside and select properties
Go to the Details Tab
Select Manufacturer from the list.
Input the model number given in the listing into http://www.google.com to find out if your manufacturer is in Taiwan.
Notable LCD manufacturers in Taiwan include CMO, AUO, Ritek, Opto Tech, CPT, and Formosa. Taiwan has even dedicated a scientific park in the southern city of Tainan to R&D and manufacturing of newer technologies. The people and the government has realized the importance of technology and have dedicated significant efforts to maintain their leadership in many areas. Such a significant effort and dedication is not to be found in any other country in the world, even and most importantly in the U.S.A. to which most of these displays and different technologies are sold.