What do you get:
1x Fancy Box
1x Set of power line ethernet adaptors.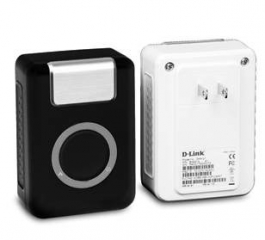 These adaptors are pretty simplistic, they weigh just around 10 oz, plug into a standard 100-240 VAC at 50/60Hz ( a standard US wall jack) they have 2 indicator lights power and network connection. as soon as you plug it in and have it connected to the network/web it will pull an IP address and begin taking snapshots.
1x Camera with base mountable on most surfaces.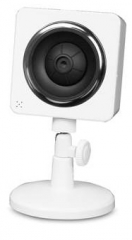 Simple ball joint camera mount with screw locks to mount it on a wall, locking joints so the device stays were you point it.
1x Ethernet Splitter.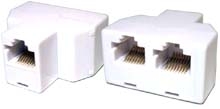 This is used for when you have one line connected to your modem instead of running it through a router or switch.
2x ~15ft lengths of Cat5 Cable (Standard networking cable) one is flat and white and the other is normal and black.
1x Product Registration Card which contains D-Life No. and PIN code to access the D-Life web site from which you can view your camera and save and delete your snapshots. Each time the camera takes a snapshot it takes it in a series of five (5) images there are a total of 100 snapshot events allowed.
1x Installations instructions. Although this is perhaps an extremely easy set up which can be summed up in several steps
Unpack the pieces
Find a location for the camera to sit where it can oversee something you want to watch over.
Plug the Ethernet cable from the camera to one of the power line Ethernet blocks,
Plug the other Ethernet blocks into an outlet near your router or modem.
Plug an Ethernet cable into the block and into either the router or splitter depending if you chose the router or modem.
Sign into the D-Life web site using Internet Explorer 6-7 follow the steps and your on your way to having the beginning of an internet surveillance system.