Features and Impressions
Network switches come in two main varieties: small and simple, or large and complex. These switches are in the first category. There's no lengthy set-up process, no drivers to install, no switches to flip. Plug in the wall wart, plug in the patch cables, and it automatically negotiates the connections.
Unlike many cheaply made consumer switches, these provide auto-negotiation on a per-port basis, allowing you to connect slower devices without degrading the speed of the overall network. They also support auto MDI/MDIX, which allows you to use straight-through and crossover cables indiscriminately; the switch will sense which kind of cable you're using and adjust automatically.
Both switches are passively cooled, but this does not hamper them in the slightest. Even with every port active and every device simultaneously sending and receiving as fast as I could push them, neither switch ever got more than mildly warm to the touch. Speeds throughout were exactly comparable to what I got connecting the test machines together with a crossover cable.
As the pictures show, there is no provision for mounting these switches in place; that combined with their relatively light weight meant I had to weigh them down a bit to keep them from being pulled down by the weight of the patch cables.
Conclusion
Part of the joy of tech is being able to fiddle with the settings to make the device do exactly what you want it to, but sometimes you don't want that. Sometimes, you want to just plug it in and have it work. These switches do exactly that, letting you expand your home or small office network with a minimum of fuss. With a MSRP of $35 and $45 respectively, the L-Com LC-SW805G 5 port and LC-SW808G 8 port Gigabit Ethernet switches provide exactly that.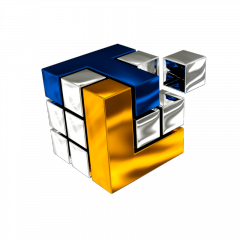 Pros
Automatic link negotiation and cable sensing
Full wire-speed performance
Cool and quiet
Cons
No provision for mounting
Light enough to be pulled down by the weight of attached cables