Testing:
Test Rig:
| | |
| --- | --- |
| Operating System | Windows 7 64-bit |
| Motherboard | Jetway HI06 |
| Processor | Intel Core i5-750 |
| Ram | Patriot Viper II Sector 5 2400 Mhz 4gb Kit |
| Cooler | Thermaltake Frio |
| Primary HDD | Seagate Barracuda 7200 rpm 250gb |
| Power Supply | OCZ MODxSTREAM Pro 700 watt |
| Video Card | Nvidia 9800gtx+ |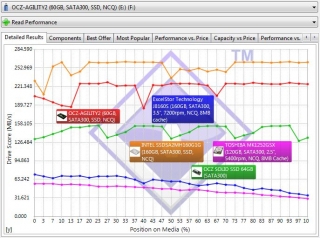 SI Sandra Detailed
The Agility 2 clearly stomped the HDD market, but this comes as no surprise. The lack of moving parts, that grants these devices their reliability also grants them great speed as there is no "spin up" time. The drive is also significantly faster than OCZ's older modeled drives, and competes nicely with Intel's expensive mobile line.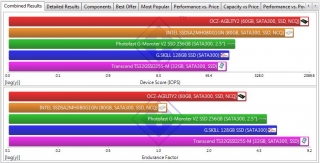 SI Sandra IOPs
IOPs are input output operations, basically it is the raw performance capabilities of a data storage device. As you can see from the colorful graph above, the capabilities of the Agility 2 significantly outperform that of its competitors. The sustained IOPs are less impressive, however this is a cost efficient model.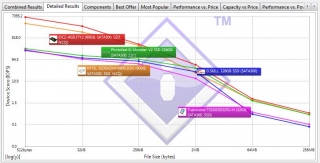 In the detailed view you can see the progression of the drive's performance as the files get larger.