Test Rig:
8Gb OCZ Platinum DDR3 1333Mhz
1Tb Western Digital Caviar Black Edition
Asus Cross hair III Formula Motherboard
Corsair 800 watt psu
ATI 5970 GPU
Antec Skeleton
Cpu-Z:
Cpu-Z is a utility made by CPU-ID that gives you the raw information about your pc. We are focusing on the processor information it provides, but it also gives detailed information about most of the major components.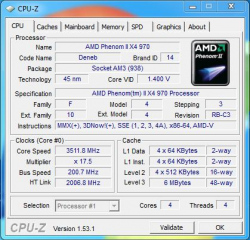 This is the raw specifications of the processor. Cpu-Z recognizes the chip as the 45nm quad core AMD Phenom II 970 BE. Also we can see the cache layouts exactly as the manufacturer specified.
Overclocking:
This is a Black Edition Processor. This basically means that the multipliers are unlocked so you can overclock to your hearts content. There are obvious limits though, the first and foremost being cooling. Secondly, the overclock obviously needs to be stable, otherwise whats the point.
We were able to increase the performance of this processor to 4.1Ghz using a Cooler Master Hyper 101A. and we were able to maintain an operating temperature of ~51 degrees celsius. The voltage on the processor did have to be increased to 1.5v, and there was a substantial power consumption difference. Overclocked, this processor utilized up to 275 watts of power. Also It is important to note that with a more powerful cooler, or even liquid cooling, this processor could be overclocked substantially higher.
SiSoft Sandra:
SiSoft Sandra is a benchmark that runs a myriad of utilities to determine the capabilities of the system in question. It also makes for an impressive presentation. It's colorful and informative.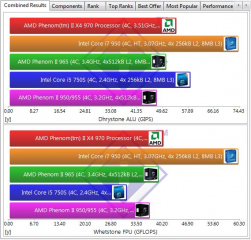 This is the processor arithmetic test. It tests the pure mathematical capability of the processor. You can see the AMD held its own against processors that are up to $100 more expensive.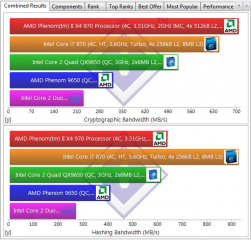 This is the cryptography benchmark. It puts the processor to test using a real world application. While most of us may not be using our computers to crack a 128bit RSA, it's nice to know how the processor stacks up in real world tests.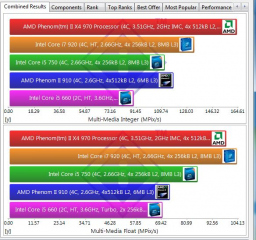 This is the multimedia test, again the AMD processor kept up with processors significantly more expensive.