Close Window
Print Article
CoolMax CU-950B Power Supply
Author:
William Halstead
Date:
2009.02.17
Topic:
PowerSupply
Provider:
CoolMax
Manufacturer:
CoolMax


Page 1
---

Introduction
So what then, is it going to be?
With apologies to Anthony Burgess, this is the question we ultimately ask ourselves whenever we're about to make a hardware purchase. Whether it's a flash drive, a chassis, or a power supply, once you've weighed the options, read the reviews, and taken a long hard look at your bank balance, that's the only question left: well, what's it gonna be?
The answer, of course, depends on many things: your performance requirements, your budget, even how it looks and feels. A power supply isn't the most glamorous of PC components, we tend to notice it only when it fails, falters, or otherwise misbehaves. That said, the power supply is the foundation of any PC—without it, nothing else works. A good power supply has the tendency to disappear, in that you no longer notice it's there, it just works. Today we'll be looking at the latest offering from CoolMax, the CUG-950B. Is this PSU going to pull a Houdini, or botch the show? Let's find out.
CoolMax's Take:
At 950 watts, the CUG-950 power supply supplies your system with the boost it needs to deliver the top experience for intense graphic rendered games. It delivers up to 2.8 times performance increase over a single graphics processing unit system, giving high-end gamers approximately 60 frames per second at resolutions as high as 2560x1600. With 950W, the CUG can power your system smoothly allowing gamers to obtain an uninterrupted experience with the best balanced power, cooling, and noise level system.
Frankly, I'm not sure what to make of this. Aside from the last sentence, this sounds like it was lifted from a blurb for a video card. I wonder how any power supply can promise that it delivers 2.8 times the performance increase over a single graphics processing unit system. This message is confusing at best, somehow having this power supply increases your graphics power? That's total non-sense of course. Perhaps there was a mix up in marketing. Nonetheless, the last sentence is on-message, promising what we'd all like to get from a good PSU: smooth, solid power delivery without excessive heat or noise.
Features
Here follows a list of features pulled from CoolMax's website, with commentary on each:
| | |
| --- | --- |
| Quad +12V output rails | Splitting the 12V output this way ensures that a heavy draw from the CPU or graphics cards doesn't affect the other components that need power in this voltage. |
| Advanced double forward circuit and double-layer PCB | This will likely mean something to those of you in the know about power supply design, though Your Humble Reviewer hasn't the slightest clue. |
| Active power factor correction | Active Power Factor Correction increases the efficiency of the PSU, meaning that more of those 950 watts get converted into useful energy for your system. It's also required by law in many countries, as well as for 80Plus certification. |
| Super high efficiency maximum 84% | 84% AC-DC conversion efficiency is fairly good, meaning that less than 1/5th of the power drawn from the wall is wasted as heat. |
| High power cable management enables safely select wiring | An especially verbose way of saying modular cabling. |
| Ultimate balance between cooling and noise level | Translation: "We'll keep things cool, and we'll try not to blast your eardrums out in the process." |
| Honey Comb Structure with best ventilation | A reference to the back exhaust panel, the honeycomb-shaped grille does indeed minimize air turbulence. |
| Dual PCI-Express power connectors fully support SLI system | A standard feature of power supplies in this power range, good to see it here. |
| ATX 12V V.2.2 | Compliance with the latest ATX specification helps to make sure you have the right connectors and voltages going to the right places. |
| All output cables with nylon sleeving | A particularly welcome feature, this helps keep cable management simple. |
| Gold plated terminal | Gold plating on connectors helps to prevent tarnishing and oxidation, which extends the serviceable life of components, especially in humid climes. |
| Flexible connector & system design | Did we mention we have modular cabling? |
| Patented easy swap connector | A common sight on enthusiast power supplies, this refers to the curved side-grips on the 4-pin MOLEX connectors that assist with plug insertion and removal. |
Specifications
Taken from CoolMax's website: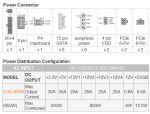 CLICK FOR REALTIME PRICING ON THE COOLMAX CUG-950B


Page 2
---

Packaging
| | | |
| --- | --- | --- |
| | | |
| Box front | Box back | Box side 1 |
| | | |
| Box side 2 | Box opened up | Box contents |
With this model, CoolMax has elected for minimal white packaging, with a green leaf motif to emphasize the environmental friendliness angle. The specifications sheet on the back is clearly laid out, giving the feature list and input current requirement, as well as maximum power draw (in Amperes) on each rail. The side panels go into some detail about the EU's Restriction on Hazardous Substances, or RoHS for short. In keeping with the Green theme, the CUG-950B is fully RoHS compliant, which means that the presence of toxic substances like lead, cadmium, mercury, and CFCs is minimized or eliminated. Opening it up, we're greeted with the power supply, the manual, and a pair of boxes. The large white box contains the ATX, SATA, EPS12V and Molex cables. The smaller black box contains the AC wall cord and a quartet of mounting screws.
The manual deserves special mention here, as it is significantly better than the average we have seen. Most power supply manufacturers throw together a shameful little black-and-white affair with the absolute bare minimum of information, usually printed in six or eight languages. CoolMax has instead given us a four-color glossy affair, with plenty of illustrations and information on the cabling, connectors, and everything else you need to know to get started. Kudos to CoolMax for putting in the extra effort where it counts. For consumers this means an easier installation, no confusion over cabling, and easy access to the infomation you need at any point.
A Closer Look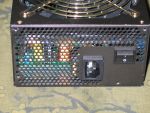 Looking at the back of the PSU, the portion that will be exposed by the case, we see a variation on a very familiar theme. Most of the back is covered in a thin honeycomb grille, which serves to maximize airflow while keeping the more dangerous bits safely enclosed, and away from incautious fingers—or screwdrivers. The only features otherwise are the 3-pin AC socket and master power switch.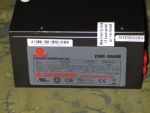 Looking to the side, we see yet another familiar sight, the on-device spec sheet. Also notable in this shot is the finish of the unit itself. Eschewing flashiness for practicality, the CUG-950 is coated in a matte black finish that resists fingerprints and gives you a solid grip while manhandling it into place.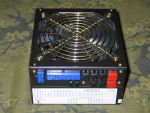 Looking at the front and bottom of the PSU, we see both the large 120mm intake fan, and the modular cable connectors. The front panel includes a helpful diagram that labels each connector by type, which is a boon for long term use. The connectors are further differentiated by colored plugs, each color indicating where its attached cable is supposed to go: blue for mainboard connectors, black for drives and peripherals, red for PCI-E power connectors.

CLICK FOR REALTIME PRICING ON THE COOLMAX CUG-950B


Page 3
---

Installation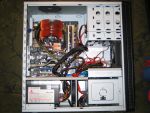 Installation was extremely simple, requiring Your Humble Reviewer only to select the appropriate cables, attach them on the device end, and thread them through the divider to the PSU compartment. From there, the supply-end connectors snapped in place easily, and the whole affair was slid into place and screwed down. As you can see, the case used for this review is modular, with the primary hard drive bay and PSU compartment separated from the main area. This reduces thermal load on the PSU, as it is not required to evacuate waste heat from the CPU or GPU. The downside, as the photo makes apparent, is that the PSU's compartment is relatively cramped, making effective cable management a challenge. In this case, the modular cabling of the CUG-950B was a great boon, allowing me to leave out the un-needed cables entirely, instead of having to find out of the way places to cram them.
The cables themselves are sleeved in black mesh tubing, secured at each end by heat shrink wrappers. This keeps the cables neat and organized without losing any flexibility, which can help in the search for the arrangement that provides maximum airflow to the components that need it. The color-coded plugs are equipped with quick-release latches where appropriate, enabling quick component swaps without the worry that anything will come loose while the system is being moved about.
Testing
Testing was performed with the following system:
| | |
| --- | --- |
| CPU | Intel Core 2 Duo E4600 2.4GHZ |
| Motherboard | ASUS Commando |
| RAM | Corsair XMS2 DDR2 800 (2 x 1GB) |
| Video Card #1 | Sapphire Radeon HD 4830 512MB |
| Hard Drive 1 | Seagate Barracuda 7200.7 SATA-I 160GB |
| Hard Drive 2 | Seagate Barracuda 7200.10 SATA-II 320GB |
| Hard Drive 3 | Seagate Barracuda 7200.11 SATA-II 500GB |
| Optical Drive | Sony NEC Optiarc DVD+/-RW |
| Case | Antec P180 Black |
Testing was done under Windows Vista Ultimate 32-bit, with CPUID's HWMonitor keeping track of voltages. Additionally, readings were taken with a multi meter at every step, to verify the BIOS readings. For taking readings under load, Stress Prime 2004 Orthos Edition and Half Life 2: Lost Coast's stress test were run simultaneously for 30 minutes.
| | 12V DC | 5V DC | 3.3V DC |
| --- | --- | --- | --- |
| Start Up (BIOS Reported) | 12.24 | 5.23 | 3.31 |
| Start Up(Measured) | 12.14 | 5.19 | n/a |
| Idle (Bios Reported) | 12.27 | 5.22 | 3.31 |
| Idle (Measured) | 12.20 | 5.17 | n/a |
| Load 30 Min Avg (BIOS Reported) | 12.27 | 5.22 | 3.31 |
| Load 30 Min Avg (Measured) | 12.20 | 5.17 | n/a |
| Shutdown (Measured) | 12.25 | 5.22 | n/a |
As you can see, voltages were rock solid and within spec across the board. Especially impressive were the readings on the 3.3v rail, which remained absolutely steady even under heavy load. Historically only used for the motherboard, the 3.3v rail now comes under additional load from SATA drives, which can put a heavy peak load on that rail if multiple drives are engaged at the same time. The 12v and 5v rails, while experiencing a bit of fluctuation, stayed well within the +/-5% variance allowed by the ATX 2.2 spec.
During the whole testing period, fan noise never exceeded the noise floor. In plainer terms, it was dead silent, even with an ear pressed to the back exhaust grille! Your system may make noise, but this PSU won't be the culprit.
Thoughts and Conclusion
While testing this power supply, I was struck by the level of polish. From the helpful, well-written manual to the organized and clearly labeled component boxes, the packaging was consistently high quality. The unit itself reflects this polish, with clear, consistent labeling and superb cable management through the modular plug interface.
CoolMax has a reputation for quality products, and the CUG-950B certainly does not disappoint. Aiming itself at the environmentally-conscious power user, the CUG-950B hits the mark. Its Nvidia SLI certification means you can be sure you'll have enough juice for a multi-GPU rig, even with a fast, power-hungry CPU. Combining rock-solid performance with whisper-quiet operation and an attractive price point ($150, NewEgg.com), this is one power supply that I can recommend without reservation to anyone with a need for a reliable, high-output device.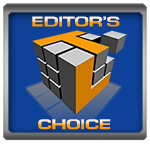 OTHER RELEVANT REVIEWS

CLICK FOR REALTIME PRICING ON THE COOLMAX CUG-950B


Copyright © 2005 Techware Labs, LLC
All Rights Reserved