NZXT Whisper - Silent Computer Chassis
Features:
Silent Performance : 10mm noise dampening foam pads both side panels and the top panel, rubber grommets reduce vibration noise on the Hard Drives, and a padded PSU holder dramatically reduce acoustic levels within the chassis
Maximum Expandability : Space for 9 hard drives and a total of six 5.25" bays with ample room for large expansion cards
Simple Installation : Pre-drilled wire management system makes it easy to route your cables and the screw less installation means you won't be constantly reaching for your tools
Advanced Cooling : Whisper includes 4 fans( 1 x 120mm Blue LED Intake, 1 x 120mm Black Rear Exhaust, and 2 x 80mm Rear Exhaust). Bottom mounted PSU separates the heat given off by the PSU and motherboard
The important features to make note of here are the antivibration mounts for the hard drives, number of hard drives supported, wire (cable) management system, screwless installation, and fan types and number. Seems NZXT really went out of their way to create a case that will meet and exceed the needs of most users. It will be interesting to find out if the 2 x 80mm fans turn the Whisper into a shout.
Specifications:
MODEL
Whisper SERIES
CASE TYPE
FULL TOWER Steel
FRONT PANEL MATERIAL
ALUMINUM/PLASTIC
DIMENSIONS (W x H x D)
211.5 X 521.5 X 562 mm
COOLING SYSTEM
FRONT, 1 X 120mm Blue LED (included)
REAR, 1 X 120mm, 2 x 80mm fans (included)

DRIVE BAYS
6 DRIVE BAYS
6 EXTERNAL 5.25" DRIVE BAYS
1 3.5" External bracket
9 INTERNAL 3.5" DRIVE BAYS
Screw less Rail Design
MATERIAL(S)
Steel Construction
EXPANSION SLOTS
7
POWER SUPPLY
500 WATT PS2 ATX 12V 2.0 ( OPTIONAL )
WEIGHT
12.3 KGS (W/O Power)
MOTHERBOARD SUPPORT
MOTHERBOARDS: E-ATX ATX, MICRO-ATX, BABY AT
Packaging:
The package matches the case, sleek. The box got a little dinged up in transit from NZXT to us. I think with all of the packages of new hardware TechwareLabs receives on a daily basis, the post office has it out for us. They probably give ours a swift kick for good measure, to exact their revenge for us making them work extra hard. Conspiracy theories aside, the box lists all of the specs and features of the Whisper.
A nice buffer of styrofoam and plastic separate the case from the box and in transit abuse.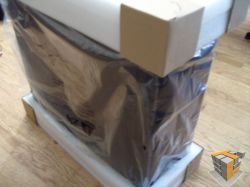 REALTIME PRICING ON THE NZXT WHISPER