AOpen HP-590 Vibration Headphones
Review by Harry Lam on 07.12.03
Product provided by AOpen, MSRP: $24.95
Aesthetics and Appeal:
Packaging:
Judging from the appearance of AOpen's attractive packaging on this product, it looks as if these headphones are being targeted to the general public. The key to achieving shelf space in major retail stores is partially based on packaging, and the packaging for the HP-590 headphones is reflective of this effort.
Contents:
The HP-590 comes with a few extra amenities inside its packaging, notably a carrying case, a 3.5mm to 6.3mm adapter, and a AA battery for operation. Although these accessories aren't at all necessary they do make a nice addition for a $25 pair of headphones.
Vibration Unit: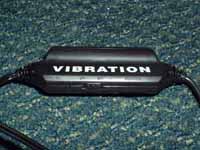 As I will explain in more depth later, I experienced some inconveniences with the vibration unit, especially during exercise and other activities involving extensive motion. I personally would have preferred a detachable vibration unit, but for $25 you really can't argue.
Headphones:
The folding "feature" of the headphones was personally one of my favorite aspects of this product. Most of the newest portable headphones on the market allow you to fold up the headphones for ease of transportation and storage, but none fold up as nicely and compactly as the AOpen HP-590s. This feature did increase my overall impression of the unit, as the headphones became much more convenient and easy to use.
The ear pads on the AOpen HP-590 headphones are trimmed with leather and it does increase the comfort of these headphones. As I will discuss in more depth later, I disliked the constrictive nature of the headphones themselves (even with the headphones increased to their maximum width).