Close Window
Print Article
Lian Li PC-888 Aluminum Computer Case
Author:
Jason Jacobs
Date:
2009.01.06
Topic:
Cases
Provider:
Lian Li
Manufacturer:
Lian Li


Page 1
---
A Case for the Exotic:
Perhaps best known for their work with aluminum PC cases Lian Li has recently released the PC-888 which is the focus of this review. Lian Li has a wide range of media center cases, small, medium, and full tower cases in addition to a line of power supplies. With more than 20 years manufacturing cases for the PC market Lian Li has more than enough experience in what works and how to engineer it. We will be taking a look at their latest creation to see if their engineering and experience has been put to good use.
The market for aluminum cases is littered with good and bad examples, some that are more functional, and some much less. The best in this market has always been delivered to consumers from Lian Li. Classic examples of Lian Li's craftsmanship can be seen in earlier cases such as their PC-60 which made aluminum cases affordable to consumers for the first time. Lets have a little background on aluminum cases first though:
Aluminum as a primary material for use in PC cases first made its appearance a long time ago when heat first became an issue. Aluminum was an ideal choice over the industry standard which is steel for several reasons.
Much Lighter Weight
Great Heat Conductivity
Easier to Form
Easily Availability
As for consumers, the lighter weight and greater heat conductivity meant your desktop became much more portable without having to carry around a 50lb PC and you received the benefits of a cooler case. Not to mention that the Aluminum cases simply looked quite a bit nicer. Don't believe me? Walk into your nearest high end audio retailer and see if the amplifiers and tuners do not have aluminum face panels if not entirely constructed from aluminum. Brushed aluminum has become industry standard for media center PC's as well as nearly all high end cases. So the question remains "Why Lian Li since there are cheaper options in the market?"
The answer is simple: QUALITY.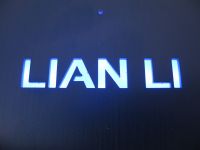 All you have to do is take one look at any Lian Li product, install a system into it, and you will be a believer. Better yet if you have experience installing systems into other cases the effect is many times greater. We have tested several Lian Li products and what you find in other aluminum, lower, and even some high end products will not be found in a Lian Li case.
There are no misaligned holes, no almost but not quite fitting parts, no rough edges, overall no poorly designed layout. So lets take a look at the proof of concept prototype design of the PC-888 computer case. In our opinion the PC-888 would find itself better titled a work of art in the computing industry than a computer case. With a retail price tag that may shock at ~$1000 the PC-888 does not come cheap, but what it provides for the price cannot be found in any other case on the market.

A look at purpose driven art. . .

REALTIME PRICING


Page 2
---
Elegance of Design Outside:
From the moment we opened the box the PC-888 is an amazing sight. Pictures don't come near doing it justice and it just gets better from there.
Click on the Thumbnail for a larger Image
The striking blue anodized finish will hit you first, then of course its non-traditional design next. Upon closer inspection we observed that every piece of the Lian Li PC-888 is anodized blue, inside and out. There are no obvious signs of assembly after the aluminum was anodized either meaning that all parts were formed then anodized to leave no silver edges due to bending. Every edge has been smoothed first, and all of the pieces line up perfectly. We did not have to push or strain to figure out how any of the parts aligned or assembled which is an amazing feat for a case with the complexity of the PC-888.
A look on the exterior of the case shows some unique features. First and foremost the power button is an oversized circle located top center of the case and ringed with a blue backlit plastic housing. Just below that you cannot miss the backlit Lian Li symbol we showed you on the front page. On the left side are located the reset button, four USB ports, Audio headphone and microphone jacks, Firewire, and even an eSATA port. On the right side are located four slots accepting 13 different types of flash media, and another USB 2.0 port with activity and power lights. No guessing here as all ports are clearly labeled.
Click on the Thumbnail for a larger Image
Diving further into the case exterior we see evidence of excellence in design in several areas. All screw holes have apparently been lined with steel fittings so you don't have to worry about stripping the holes due to over-tightening thumbscrews. Additionally we find the side panels are secured with a hinged mechanism and released by a labeled screwed in pull tab.
NOTE: The thumbscrew is joined to the pull tab and mounted with a spring tension so you cannot actually lose it.
Also on the rear of the case you will find a 120mm blue LED fan that is apparently speed controlled via an adjustable knob located just below it. Further inspection later showed that this adjustment knob also controls the two additional front 120mm blue LED fans. There is even room on this fan controller for a fourth fan/CPU cooler fan to be controlled.
Moving up a bit from the I/O panel we find the mount for the power supply (PSU) which is secured via 4 thumb screws which mount perfectly into the case. Just above that you will find that Lian Li has taken the time to include a rear removable plate allowing you easy installation and wiring of your optical drives.
NOTE: SATA drives must be used with the PC-888 as we were unable to use a standard/older IDE optical rom due to cable length. This could be different for your scenario depending upon the length of cables available to you and the location of ports on your motherboard. The included SATA cables provided by Lian Li were perfect length for the SATA optical drive we installed and our motherboard.
Aside from these features of the PC-888 we have the left side panel which has a window located in it secured with allen screws.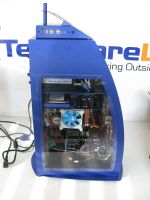 Lets venture into the heart of this work of art.

REALTIME PRICING


Page 3
---
Elegance of Design Inside:
Taking off the side panels the view inside the PC-88 is just as good as the outside. This case was designed with ease of installation and usability in mind. What is really amazing is that the PC-888 manages to combine usability with fluid design curves and a beautiful internal layout. Two features which usually do not come together well.
From a Usability Standpoint:
Room for 4 hard drives
Quick release for hard drives.
Centralized hard drive mounting system with SATA cable management.
Cable management that routes cables right where you need them.
All fans equipped with fan guards.
Fan speed controller for 4 total fans.
Ventilated bay drive panels for greater airflow.
Easy access to all screw holes.
Cable management covers and retention brackets use thumbscrews.
Side panels utilize seals for light and airflow.
Hard drive bays with airflow holes.
Motherboard tray has open hole for CPU mounting area.
From a Design Standpoint:
Blue Lian Li anodized and stamped hard drive rails.
Side mounted hard drives.
Unique curved case structure with staggered fan mounts.
Optical drives utilize hinged aluminum blue anodized face plates.
Compartmentalized internal layout with centered structure.
PSU mounting compartment includes oversized panel to hide messy cables.
Side panel with beveled, thick, and well mounted window.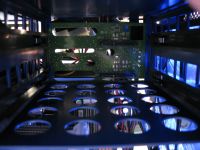 Summary:
The PC-888 is not only designed to be a functional extension of your system allowing for maximum use of all the capabilities of your motherboard and peripherals but also pleasing to the eye. Easily befitting the ultimate gaming machine or as a centerpiece of a media center the PC-888 is sure to start conversations and spark envy. We have tested many cases and the PC-888 was by far the easiest to work with and provided for the fastest install in the desktop class.

REALTIME PRICING


Page 4
---
Test Setup:

Our test installation machine consisted of the following:

AMD Phenom II 940
MSI Motherboard
Seagate 320GB SATA
Tagan BZ800 PSU
Lite-On 16X DVD-RW
AMD/ATI 4870 X2
Installation Issues:
As no case is perfect the PC-888 did have some issues during our installation and testing. The first issue we encountered was with connection of optical drives. Since the PC-888 is such a tall case we found it impossible to mount a standard IDE optical drive with standard cables. the cables were simply not lengthy enough to read the IDE port on our motherboard. This may be more of an issue with technology than the case layout but we feel it may have been appropriate for Lian Li to include cables of the right length. Considering the retail of ~$1000 on the PC-888 we don't feel this is unreasonable.
Our second issue also comes as a result of the design of the case and deals with the cable conduit that runs along the front right of the case. This conduit while an excellent idea just didn't provide enouugh room for our cabling needs. Considering the rather basic setup of our components we found it difficult to route all of our cables in the conduit. Most of our cabling issues were wwith power supply cables, as such Lian Li probably should have cut a hole in the bottom of the PSU tray to allow for alterrnative cabling needs. The Tagan BZ 800 provides screw on modular cabling with rubberized, sleeved cables and we still found it difficult to route all of the power adapters.

Our third issue comes with the hard drive bays and also deals with cabling. While the concept of the hard drive trays and unified SATA ports on the rear is great the implimentation of the molex power adapters makes it difficult to power the drives and still keep the molex cables out of view.
Positive Experiences:
The PC-888 was without an equal in the installation of our devices and especially the motherboard. Removal of the motherboard tray was very simple and installation of the motherboard consumed a mere 10 minutes of time. All the necessary hardware, tie down cables, and even tools are provided in the accompanying box witht he case. In fact we never found ourselves searching for methods of removal or installation of any parts, peices, or hardware during our use of the PC-888. The spring mounted thumbscrews for the side panel removal is a delight as is the fit of all of the hardware. Nothing is more frustrating than trying to thread screws into misaligned holes and worrying about the screw threading at an angle or stripping the screw.
Did we mention the AWESOME power button? We absolutely loved the experience of our first power-on of the PC-888 and sitting back to watch the glow from three fans, the Lian Li logo, and the power button. The choice of blue LED's work amazingly well with the case and accent the inside components wonderfully. As we mentioned earlier the PC-888 looks like a work of art and functions like a Bently.
Summary:
If you have the disposable cash and a flair to own an elite case then you can't go wrong with the PC-888. Our issues encountered were small and not serious at all. The PC-888 is a proof of concept product so we don't expect wide spread availability but rather see the PC-888 as a limited edition product. With the associated pricetag its easy to see why this is. While this would be the ultimate eye candy for any LAN party we don't foresee many owners taking the case out for a stroll with concerns about scratching or damaging such an expensive and beautiful case.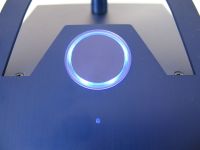 Considering the amazing design and unique features of the PC-888 it is well deserving of both our Editors Choice Award and our Awesome Hardware Award. In our history of case reviews we have not come across a more elite case with such a full range of features and exceptional design.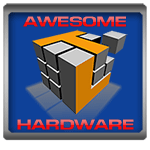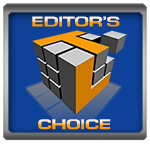 REALTIME PRICING


Copyright © 2005 Techware Labs, LLC
All Rights Reserved