Close Window
Print Article
Glacialtech Altair 380 Media Center PC Case
Author:
Matthew Homan
Date:
2008.03.19
Topic:
Cases
Provider:
Glacialtech
Manufacturer:
Glacialtech


Page 1
---
Glacialtech Altair 380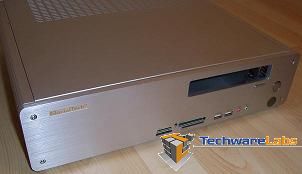 Introduction:
Glacialtech has sent their Altair 380 chassis targeted towards the HTPC/Media Center PC consumer to be reviewed. So with several media cases and system reviewed lately, can one case be much different from others? Well, the Altair A380 from Glacialtech is quite a bit different from other HTPC/media cases in size, features, structural build, and layout. Lets take a closer look, to see what we mean.
The Altair A380 is a very clean design with very little in the rhelm of buttons and switches on the front of the case. We have the typical compliment consisting of a power button and eject button for the optical drive, and that is it for the front of case. Now some would say I want more options on the front of the case to modify audio or maybe video, but to be honest, when it comes to media PC cases there isn't a need for a lot of buttons because the windows media center should be able to modify all these settings for you.
Specifications:
The case comes with two 60mm case fans and a micro ATX 270watt power supply, which makes the case more attractive to those of you who have an older motherboard and processor laying about that can easily be mounted in the case. The other great feature about the case is the fact that it is capable of supporting both Micro ATX and standard ATX motherboards giving you the flexibility to use an energy efficient platform or something with a bit more power.
Case type:
HTPC, MCE
Color:
Glacier Silver, Rock Black
Net weight:
6 Kg
Expansion slot:
2
Dimension (W×H×D)
430 × 100 × 380 mm
Drive Bays
1 × 5.25":2 × 3.5"
Power Supply
270 with included
MotherBoard:
ATX, Micro ATX
I/O port:

USB2.0 × 2
Audio & Speaker port
52 in 1 card reader
IR receiver

Cooling system
Dual 60 × 60 × 20mm fan, 1500 rpm. 19 dBA
Material:
6063 Aluminum & SECC
HDD cooling:
60 × 60 × 20 mm fan, 1500 rpm, 19dBA
Control
IR remote control built for Windows Vista

Page 2
---
Glacialtech Altair 380
A Deeper Look:
As stated earlier the Altair 380 supports both micro and standard ATX motherboards, but since the case is very low profile, there is only room to install half height PCI cards, which means your video and sound will probably need to be onboard. With the release of the new AMD 780G platform this is not much of an issue but if you select an Intel powered platform you may have to be selective to obtain acceptable performance and features at this time.
With many micro and even standard ATX platforms you will be able to find onboard video and audio so this issue should be a roadblock. The Altair also comes with IR cables which allows you to run the sensors to a location in you home entertainment stand where it will be able to easily pick up the commands from the included remote control which can be expensive if purchased separately.
Take a look at the pictures in our small gallery below to see how the Altair is laid out and the numerous features.
| | | |
| --- | --- | --- |
| | The ROM drive bay door is included with case to allow you replace your present ROM drive door with the same brushed aluminum look. | |
| Showing off the included 275Watt Power supply and 60mm Case fan | | The back side of the power button and power LED located next to the ROM drive bay. |
| Front access ports, which includes audio, USB media card reader, CF/MD, XD/SM, MS ports. | | |
| | The remote is designed to work with Windows Vista | |
As you can see the internal layout is very clean and includes enough room for mounting the bare essentials necessary for a Media Center PC. The addition of a combo card reader is a nice touch and will probably find plenty of use in this case for its intended purpose. We should not that many media center PC cases do not come with remotes included and while more and more are being offered with the remote it is still nice to find that Glacialtech has kindly included one in this package.


Page 3
---
Glacialtech Altair 380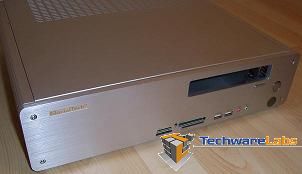 Conclusion
The Altair A380 is is one very sharp looking case with several options that make it an attractive option for those of us who want to jump into the home media system market. So with the option for both micro and standard motherboards, the A380 gives you the option to use some motherboard you may already have in your arsenal. Did we mention we just love the brushed aluminum look?

Just about the only improvement we would suggest to Glacialtech at this time would be the addition of a VFD or small LCD mounted in the front of the case. More and more chassis are coming with this as an option but unfortunately those constructed as well as the Glacialtech Altair are in a completely different price range.The options which include the Windows Vista media center compatible remote and a micro ATX power supply included gets you closer to a work system sooner then having to purchase much more if at all additional peripherals to get your system up and running. So take a look at what you have sitting around and then take a good look at the Altair A380, as it is one sound option for those of you who want to jump into home media center market.


Copyright © 2005 Techware Labs, LLC
All Rights Reserved