Kingwin KWI-450 Power Supply
Review by David R. Hedges on 04.04.2003
Product provided by: Kingwin
Price: $68 (Newegg.com)
Cooling
As discussed earlier, the KWI-450 features three fans: two intake fans mounted inside the case, and one exhaust fan. While an intake fan is being seen more commonly on third-party power supplies than earlier models, virtually no stock power supplies feature a single intake fan--muchless two.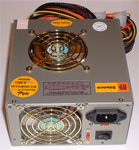 This entire series of power supplies from Kingwin features three 80 mm fans on the unit. Once mounted, the power supply intakes air from the front and the bottom of the unit, and exhausts air from the rear of the case. These locations are of key importance for proper case ventilation and air-flow. The fan on the bottom of the unit will suck air away from the CPU, RAM, and other PCI or AGP peripherals. These are going to be major producers of heat, meaning an additional exhaust fan is always welcome.
Another feature included in the KWI-450 is the use of "smart fans." Smart Fan technology involves dynamically modifying the rotation speed of the fans based on the current temperature, as determined by an integrated sensor. The use of smart fan technology versus standard static speed fans is beneficial because it reduces the noise level of the unit during times when high airflow is not required to maintain acceptable temperatures. This technology has begun to emerge recently in the CPU heatsink market, and advanced third party controllers for case fans. It definately shows that Kingwin has tried to think of everything possible to suit the user's needs and desires. As is shown by this great idea, Kingwin has not only included the things that users would think of to want in a power supply, but gone the extra mile, to think of things that wouldn't even occur to the user. A sticker with a brief explanation of this technology is attached to the unit, and shows how fan speed is changed relative to the temperature.