Kingston HyperX 2GB DDR3-1375 RAM kit
Kingston HyperX 2GB DDR3-1375 RAM kit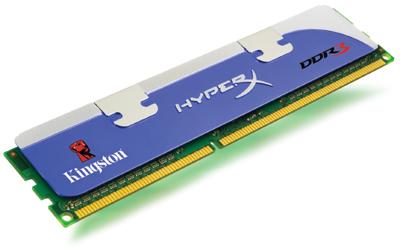 When a person thinks of RAM, the main things that pop into their mind is brands, speeds, types, and price. Kingston, a long-time manufacturer of memory, has released to us a fantastic lightweight kit of DDR3 - the KHX11000D3LLK2/2G DDR3 1375MHz 2GB kit. With its sleek lines and shimmery blue dust anodized coating, it's more than just a piece of good equipment, it's a fashionable, streamlined set of RAM that won't hurt your wallet.

note: The image above shows the updated heatsinks. Our evaluation copies were sent before the new style was released.
Kingston's Take:
"It's Here — HyperX DDR3 memory, the next-generation evolution of DDR memory technology. Like all Kingston HyperX products, HyperX DDR3 modules are specifically engineered and designed to meet the rigorous requirements of PC enthusiasts. HyperX DDR3 offers faster speeds, lower latencies, higher data bandwidths and lower power consumption. HyperX is available in single and dual-channel memory kits."

Features:
1.7 Volts operation
Memory signal termination inside the memory chip (On-Die Termination) to prevent reflected signal transmission errors
Operational enhancements to increase memory performance, efficiency and timing margins
CAS Latencies: 5 (Ultra Low Latency) and 7 (Low Latency)
Currently available in speeds up to 1.5GHz and capacities up to 2GB kits
DDR3 memory modules are not backward compatible to DDR2 and DDR based motherboards, due to incompatible module connections (number of pins), voltage and DRAM technology. DDR3 memory modules have a different key or notch than the same-sized DDR and DDR2 modules to prevent their insertion into an incompatible memory socket. HyperX is available in single and dual-channel memory kits.

Specifications:
JEDEC standard 1.5V ± 0.075V Power Supply
VDDQ = 1.5V ± 0.075V
533MHz fCK for 1066Mb/sec/pin
8 independent internal bank
Programmable CAS Latency: 5,6,7,8,9,10
Posted CAS
Programmable Additive Latency: 0, CL - 2, or CL - 1 clock
Programmable CAS Write Latency(CWL) = 7(DDR3-1066)
8-bit pre-fetch
Burst Length: 8 (Interleave without any limit, sequential with starting address "000" only), 4 with tCCD = 4 which does not allow seamless read or write [either on the fly using A12 or MRS]
Bi-directional Differential Data Strobe
Internal(self) calibration : Internal self calibration through ZQ pin (RZQ : 240 ohm ± 1%)
On Die Termination using ODT pin
Average Refresh Period 7.8us at lower then TCASE 85°C, 3.9us at 85°C < TCASE . 95°C
Asynchronous Reset
1066Mbps CL7 doesn't have backward compatibility with 800Mbps CL5
PCB : Height 1.180" (30.00mm), double sided component

Real Time Pricing: