The FIC Condor
Review by Jason Jacobs on 9/10/04
Product Provided by FIC

Included Items
FIC has included the standard array of cables for hookup, however, these cables come pre-installed inside the case. Additionally FIC includes the following:
1- Molex to SATA power connector
1- Motherboard Software CD-ROM
1- ATX Power Cord
1- Motherboard Manual/Assembly guide
2- SATA Connectors
2- Pouches with Misc. Hardware
The rear of the Condor includes a full compliment of ports, with the exception of the missing parallel port. This should not hurt the user too much, as the Condor comes equipped with four (4) USB ports on the rear and two in the front. If you wish to accessorize with speakers, a joystick, scanner, or printer you will have plenty of room.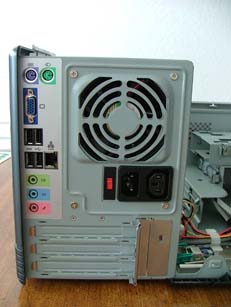 As you can see from the back, there is room for three optional slots to be used. Two of these slots correspond to PCI slots on the motherboard, while the other is what makes this system noteworthy. The third and topmost slot corresponds to a full 8X AGP slot that can be utilized in place of the onboard Geforce 4 MX. While the onboard video is good for some games, a user will want to utilize the optional AGP slot to meet the demands of current engines and maps. It's important to mention that the intake for the CPU heat sink is directly above the memory and core of most video cards occupying the AGP slot. In our tests, the CPU temperature rose sharply with the AGP card in place. This is due to too little airflow within the case. In fact, other than the CPU and PSU fans there is nothing creating any airflow inside the case. This author highly suggests that if you utilize the AGP slot that you look into placing a slim form factor fan into the bottom and/or top of the case. This is poor engineering, in an otherwise flawless execution of case engineering. TWL was able, however, to run several hours of intense gaming with an AGP card in use and the case in stock condition. Temperatures were high (120 degree F) but not excessive.
Installation of the operating system was uneventful and proved successfully the first time around. I cannot stress enough how many times systems are evaluated that required a bit of work before a successful OS installation could be performed. Between the BIOS options and hardware settings, it often requires some knowledge and work to get the setup right to begin the install. The FIC Condor comes from the factory ready for installation of your hardware and OS. This fact, again, shows some work and effort on FIC's part to get things right for their customers.
Let's continue to the overall appeal of the Condor.