FIC K8-800T AMD 64 Motherboard

Review by Jason Jacobs on 05/12/04
Motherboard Provided by FIC
Board Layout: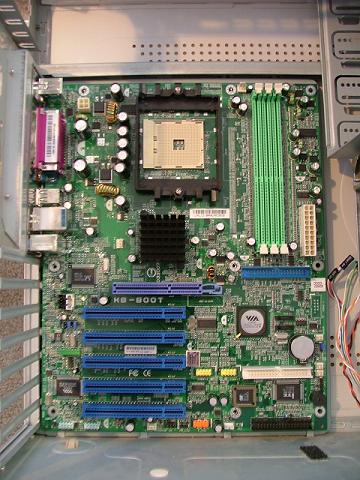 The connector and board layout of the FIC K8-800T is a mixed bag. Let's take a look at the K8-800T and see what we can find:
The Good:
The Northbridge heatsink is huge, tall, and passive. The size will help in overclocking and keeping this heat producer cool.
Finally a manufacturer listened to consumer outcries about the RAM sockets being too close to the> AGP card. Placement here is excellent and makes for easy installation and later change of RAM.
There are three RAM sockets, though only two can be used at PC3200 speeds for a maximum of 1 GB.
There are FIVE PCI slots!! Expandability heaven. (More on this feature below)
Four I/O Bracket USB Ports. I find the extra USB located on the I/O brackets to be more useful than those located on the extra PCI bracket as it allows you future expandability without sacraficing a PCI slot, and also allows for a cleaner internal case setup should you not use the extra PCI bracket.
The Bad:
Overall cable connectors are configured horizontally instead of vertically, making cable arrangement more difficult and possibly impeding airflow.
Primary (IDE1) and Secondary (IDE2) connectors are too far apart and do not lend themselves to a neat connector arrangement.
The Secondary IDE connector is located close to the Bios chip, and could lead to ESD problems.
The floppy connector is located at the bottom right corner of the board, making cable arrangement more difficult.
The main motherboard power connector ir located to the far right of the motherboard between the top and bottom of the layout. It will interfere with HD placement and cable connector routing for all of the devices.
Here are a few pictures below that will heelp explain the trouble points.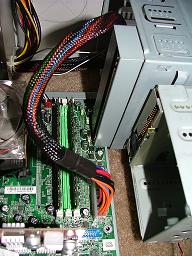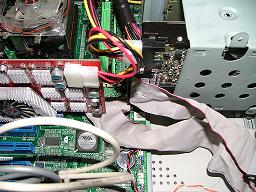 Overall FIC has done an excellent job with the board layout. Component fit will be tight in a mid to small ATX case, however, fit will not be an issue with a full tower case. FIC would have a perfect design here if it weren't for the staggered layout of the IDE and floppy connectors.
On to the Test Setup and Benchmarking
Shopping Matches for FIC K8 800T Motherboard: