Samsung Yepp 90S MP3 Player Review
Published By: Paul Machado
Review Date: September 23/2002
Product Supplied By: Samsung Canada
Software Installation:
Yepp Explorer:
The Samsung Yepp 90S comes with two pieces of software that enables you to perform all of the capabilities of this product. Included on the mini disc are two programs called Yepp Explorer and Yepp CD Ripper. The Yepp Explorer software is the only program that could be used to transfer songs on and off of the audio player which I feel is a bad point for this product. What would have been better is that when the MP3 player is connected to your PC or Mac it should turn up as a storage device therefore allowing you to add or remove songs off the player without the need for any software.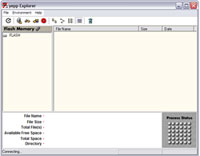 The Yepp Explorer software is very easy to use and is not complicated at all. All you have to do in order to transfer a song onto the player is connect it to your computer via the USB cable, open the Yepp Explorer software and drag and drop the songs into the software. You can also arrange the songs in any order you wish with the software as well. Talking transfer times now it takes about three and a half minutes to completely transfer 64MB of music and depending on the size of the songs an average of 12-14 songs on the player.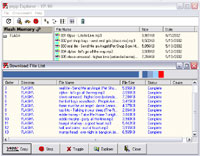 Yepp CD Ripper:
The other piece of software the Samsung has included with this player is Yepp CD Ripper. If you don't already have CD ripping software you can use the Yepp CD Ripper software which allows you to extract music up to 320kbps. At this rate the file sizes become quite large limiting the amount of songs that are able to be stored on the player. A fair rate would be 256kbps and a notice between the two rates cannot even be noticed if using the supplied headphones.