Redefining the Server:
Almost all companies continually seek to be able to pack more processing power into a smaller space and more importantly to be able to do so using less and less energy. If you have ever been inside a traditional "datacenter" or "server room" you are probably familiar with elevated floors, very cold environments, and much higher than normal noise levels. This is all quite normal for a server environment. Traditionally servers have consumed tremendous amounts of power and put off a great deal of heat as a result. The cold environements is due to the air conditioned rooms used to help combat the ever present heat emitted from rows of servers. Elevated noise levels are due to the large numbers of fans used to pass air over the heatsinks inside the servers, and the raised floors serve as a distribution system for the conditioned air as well as conduits for cabling and power.
SuperMicro is well known in the server and supercomputing markets. Their systems are known for strength and the ability to deliver computing power. As is the trend with standard computers, smaller is also the trend in the server market. During CeBIT 2007 Supermicro was showing off their latest HPC (High Performance Computing) the 6015T which offers two nodes in a single 1U space and power supply. The 6015T offers support for up to 16 cores (2 nodes x 4 cores in each socket) and up to 32GB of DDR2 ECC ram.
You might ask yourself why this is unique, lets take a close look.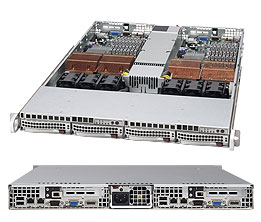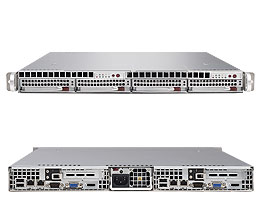 As you can see the 6015T packs 4 sockets (2 Nodes) into a 1U space, all running off a single high efficiency power supply rated at 980w. This is ideal for HPC users who will rely on the reputation of Supermicro power supplies and the benefits of lower power consumption and the ability to fit more computing power into less space to offset the potential single point of failure of the PSU. With two removeable hard drive bays per motherboard this server will not suffer from lack of storage.
Upon initial inspection you can see a very clean layout with what appears to be a center mounted PSU unit. The PSU of the 6015T is mounted in the center and current is divided between each server via a single edge contact junction. We will dive more into the power supply, its ratings, and what we found in the next page. As you can see from the images, each node of the 6015T has onboard video 2 USB ports, a serial connection, and twin Gigabit network connections.
Lets take a look at the specifications of the 6015T.