Introduction:
Laptops have come a long way over the years since their first revisions. The first one I remember seeing was an 8088 processor with a monochrome screen and weighed as much as today's desktop. The options consumers have now range from, 10" to 19" screens and processing power ranging Intel's Atom processor to ones found in today's mid to higher-end gaming systems. TWL has reviewed several laptops over the years, which include high-end laptops to a small netbook. MSI has released their version of the netbook called the MSI Wind and it appears to be very popular as of late. TWL has gotten a few of the U100-422CA model in its collection and it appears we weren't the first ones. When I first showed the MSI Wind to a friend, the response was "oh yeah, my girlfriend has one too." So, lets take a close look at what makes the MSI Wind this popular.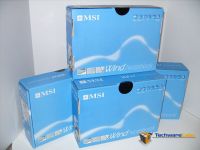 The concept behind Netbooks as stated by Wikipedia is:
A netbook is a light-weight, low-cost, energy-efficient, highly portable laptop suitable for web browsing, email and general purpose applications — primarily noted for its small form factor. Netbooks typically have less processing power than full-featured notebooks and limited ability to run resource-intensive operating systems.

The MSI Wind has met all these points and does it with resources to spare and with money left in your pocket with the cost of about $450 at the time of this review. Considering all that the Wind has to offer this is a real bargain. Through the next few pages we will get into what makes up the netbook MSI calls the Wind and what it can do for the end user. We will test the performance aspects and wrap up with what I think of this netbook, so lets get started.
REALTIME PRICING