Evoluent Vertical Mouse 3
Evoluent VerticalMouse 3 Rev. 2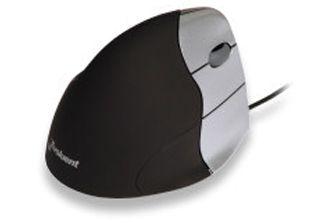 Evoluent has come out with yet another creation that makes us feel better. It makes us realize that technological advances are not being made only with computer internals, but that special consideration is being taken for our wrists as well. I present to you the VerticalMouse 3. The idea of the VerticalMouse is to straighten out your arm so that it is not torqued. This is the same approach being used by the "Natural" style of keyboards which are aimed at being more ergonomic. Typically these style peripherals are involved in either a love or hate relationship.
Most users interact with their computers more via the mouse than the keyboard as almost all programs and especially the internet is driven via point and click interfaces. This being the case we can easily see where a device such as the Evoluent mouse has value. Senior citizens, those with arthritis, and many others who simply want to reduce wrist/arm strain may consider this a godsend.
Here is how it works: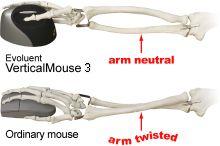 We at Techwarelabs gave Evoluent's new mouse a shot just to see what all the hype is about.
Packaging:
| | |
| --- | --- |
| | |
| Front | Inside |
| | |
| --- | --- |
| | |
| Back | contents |
Up Close and Personal:
| | | |
| --- | --- | --- |
| | | |
| Right side | Bottom | Left Side |
| | |
| --- | --- |
| | |
| Feels good | Hairy knuckles |
Sensitivity:
The VerticalMouse 3 comes with 4 available DPI settings that can be changed by the click of a button on the underside of the mouse:
Off - 800 DPI
Blue - 1300 DPI
Purple - 1800 DPI
Red - 2600 DPI
Differences between VerticalMouse 2 and VerticalMouse 3:
From Evoluent's website:
These are the improvements of the Evoluent VerticalMouse 3 over the Evoluent VerticalMouse 2:
1. Reshaped to better fit a greater range of hand sizes.
2. A gaming grade infrared sensor with hardware adjustable resolution of 800-2600 dpi instead of an optical sensor with fixed 1200 dpi resolution for superior tracking on more types of surfaces.
3. An optical scroll wheel with detents (clicks) instead of a smooth rolling wheel.
4. A small flange along the bottom edge to prevent the little finger from dragging on the desk.
5. Additional driver functions, such as button programming customizable for different applications.
6. A completely new internal mechanical design for improved parts fit and button feel.
7. A completely new electrical design for improved reliability.
Available button functions:
None - button does nothing when clicked.
Left Button - left or normal click.
Right Button - right click.
Wheel/Middle Button - middle click for some programs, particularly CAD programs.
Alt - keyboard Alt
Auto-Pan - click and drag the mouse to scroll or pan in any direction.
Back - go back one page or folder in browsers.
Backspace - keyboard backspace.
Close - close program or window.
Copy - keyboard Ctrl C to copy.
Ctrl - keyboard Ctrl.
Cut - keyboard Ctrl X to cut.
Double Click - click once to perform double click.
Drag Scroll - press and hold the button, and drag the mouse to scroll vertically.
Enter - keyboard Enter.
Esc - keyboard Esc.
Explorer - Open Windows Explorer to browse folders.
F1 - keyboard F1, brings up help in most programs.
F2 - keyboard F2
F3 - keyboard F3
F4 - keyboard F4
F5 - keyboard F5, refreshes view in most programs.
F6 - keyboard F6
F7 - keyboard F7
F8 - keyboard F8
F9 - keyboard F9
F10 - keyboard F10
F11 - keyboard F11
F12 - keyboard F12
Forward - go forward one page or folder in browser.
Key Stroke Recording - records and plays back keyboard keystrokes.
Launch Application - starts a selected program.
Maximize - maximizes window.
Minimize - minimizes window.
Page Down - keyboard page down.
Page Up - keyboard page up.
Paste - keyboard Ctrl V to paste.
Pointer Speed Toggle - toggles among up to 3 sets of pointer speeds.
Print Screen - keyboard Prt Sc to copy screen image to clipboard.
Run - opens Run function in Start menu.
Shift - keyboard shift.
Show/Hide Desktop - show open windows or minimize all windows.
Spacebar - keyboard spacebar.
Start - opens Start menu.
Switch Applications - brings next open program to the front.
Tab - keyboard tab.
Undo - keyboard Ctrl Z to undo.
Zoom - click and drag the mouse to zoom images.

Evoluent Mouse Manager V3.3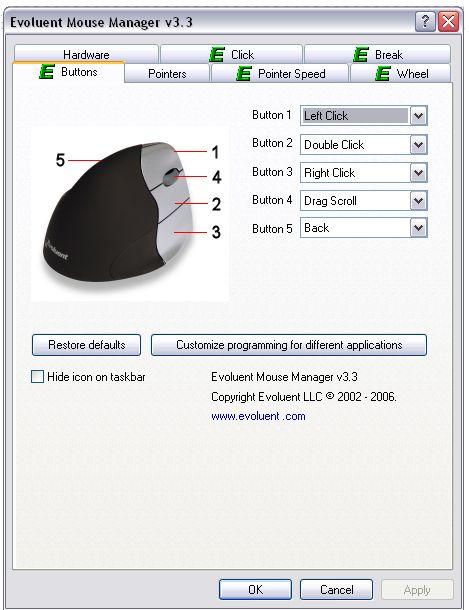 The Evoluent Mouse Manager V3.3 has 7 submenus that can be used to control the mouse:
1. Buttons - here you can set up the actions of the 5 available buttons
2. Pointers - You can change the pointer the mouse uses.
3. Pointer Speed - Changes the speed the pointer moves across the screen
4. Wheel - changes how many lines scroll at a time
5. Hardware - Shows the Evoluent mouse driver options
6. Click - Toggles Click Lock and autoclick
7. Break - This is actually a reminder you can set so that the mouse reminds you it's time to take a break and stretch
Colors:
At this time, the VerticalMouse is available in two colors: silver and purple.
Conclusion:
I can see where the Evoluent VerticalMouse 3 would make your wrist more comfortable, but it was very hard to adapt to it at first. I would only be afraid that one would forget how to use a regular mouse, but with the expanding options of this mouse, it may soon become the "regular mouse." The VerticalMouse 3 Rev 2. sells for an MSRP of $59.99, and is easily available through shopping.com as well as Amazon. See our links for easy access to this mouse which is available in both Right and Left handed models.