PLANon DocuPen RC800 Portable Scanner
DocuPen RC800

PLANon recently sent us the DocuPen RC800 which is a portable color/mono scanner with a built in rechargable battery and onboard upgradable memory to hold your documents for download at a later time. The DocuPen is very small small device that allows for ultra portability for the mobile professional on the go. It is designed to accomodate scanning up to normal width pages of 8.5" and as long a length as is needed provided enough memory is present.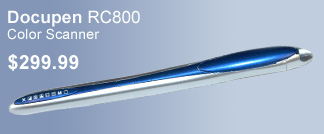 The DocuPen retails for $299 and at this price its not for the casual user needing to scan a few documents. With the built in memory, weight, rechargable battery, and size of the DocuPen its apparant that highly mobile individuals with disposable cash are the target users.
Let's take a look at the specifications of the DocuPen RC800.