New AMD 780G Platform and Low Power 4850e Processor
New AMD 780G Platform and Low Power 4850e Processor

Introduction:
Two weeks ago we ran an editorial on the needs surrounding the HTPC and the re-invention of this platform that would be necessary for the HTPC to become a regular household item. It seems that AMD is one step ahead of us and has already integrated much of what we mentioned in this article into their new 780G platform. For those unfamiliar with this platform the 780G aims to fill a previously unfulfilled gap that exists in the small form factor market. To provide much higher end graphics power while still being small and energy efficient. We will cover each of those goals later, but first lets take a look at what 780G is:
From AMD: " The AMD 780G is an eighth generation Integrated Graphics Processor (IGP) that integrates a DirectX®10 compliant Shader Model 4.0 graphics core, Unified Video Decoder (UVD), one x16 PCIe Gen 2 link, HT 3.0, DVI/HDMI interface, internal or external TMDS and DisplayPort capability in a single chip. This high level of integration and scalability enables manufacturers to offer revolutionary performance and capabilities."
So what is 780G?
What you have here is AMD's answer to the lack of power, performance, and connectivity available for small form factor platforms today. Traditionally you have been able to build small form factor boards that were energy efficient but not powerful, and additionally required expansion boards for graphics, or things like HDMI. With the 780G AMD has set form a list of standards to be used in the creation of all 780G boards which many will find very useful. 780G, the chipset itself, is quite remarkable, building in support for a grocery list of functionality. Check out the full specification list below:

DirectX10


Exceptional integrated graphics performance in the latest, greatest and the most demanding 3D games

Multiple Display


Dual independent displays including two digital outputs
Resolution, refresh rates, and display data can be completely independent for the two display paths
DisplayPort/DVI/HDMI
For Full HD Playback with HDCP support (onchip key storage)
Supports HDMI audio with Realtek's driver
ATI SurroundView
AMD 780G Chipset with an additional ATI Radeon discrete card can drive up to 4 monitors.

UVD


Leading multimedia capability
Plays all major formats - MPEG-2, VC-1, H.264
Enhanced MPEG-2 hardware decode acceleration
Benefit from exceptionally lower CPU utilization
Reduced cooling requirement (fan speed) results in lower noise and power consumption.

Display Cache


Used in conjunction with UMA
Enhances graphic performance

HyperTransport 3.0


2.0+ GHz HyperTransport Interface (5.2 GT/s)
Aggregate Bandwidth - 41.6 GB/s
Faster access from chipset to memory

PCIe Gen2


1x16 graphics interface
Up to 6x1 PCI Express general purpose links
5.0 GT/s

ATI Hybrid Graphics


Performance boost with an additional ATI Radeon discrete card
PCIe Gen 2 Advantage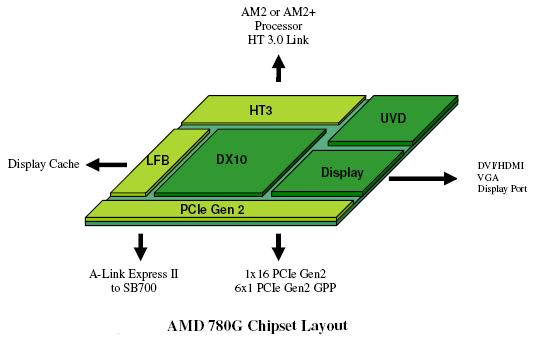 As you can see the 780G is chock full of HTPC goodness. Its quite obvious that the intended market is for HTPC or the Media Center PC but with greatly added expandability and performance. The 780G with its list of features could easily be found sitting in an office space, SOHO, or medium business concerned about silence and energy efficiency. To this end AMD has included their newly released 4850e processor. The 4850e is a dual core processor running at 2.5GHz with a mere 45W TDP max. This means that you are far more likely to see idle heat output closer to 25-30W at which point given enough airflow this processor comes close to being able to be passively cooled. We will show energy consumption of an entire 780G platform under the 4850e and a more agressive Phenom 9600 later in this review.
Hybrid Graphics:
What is probably the greatest innovation that the 780G brings with it is the presence of DX10 compatible onboard graphics that provides acceptable 3D performance. AMD took it one step further with the 780G and engineered the onboard graphics with the ability to enter into crossfire with the addition of a second card. AMD is calling this hybrid graphics and the performace levels might surprise you. Just so everyone understands, hybrid graphics is a feature that is only supported by Windows Vista and not XP.
Power to the HTPC:
Essentially AMD has given more more to the home therater PC. Think of the 780G as your standard M-ATX platforn on steroids. AMD has builtin the ability to do a hybrid crossfire which as seen above by adding a single video card means you can enter into crossfire mode and gain a potential increase of up to 70% performance depending on the application.
Currently supported hybrid crossfire cards are:
ATI Radeon HD 3450 1768 2723
ATI Radeon HD 3470 2526 2713
ATI Radeon HD 2400PRO 1550 2600
ATI Radeon HD 2400XT 2300 2700
So what can you do with 780G that you couldn't do with pre-existing platforms intended for HTPC /MCPC market?
Enjoy 3D gaming and applicaitons at acceptable frame rates
View up to four monitors with the addition of a single card. (Surround View)
Play games in Windows Vista in DX10 mode without the need for an additional video card. (i.e. 780G includes DX10 onboard graphics)
These are only a few benefits of the 780G which does not take into consideration UVD, HDMI, eSATA, SPDIF out, nor support for up to 12 USB ports.
Lets take a look at the Gigabyte platform and the new AMD 4850e.