Lite-On SOHW-812S DVD±RW Burner

Reviewed by James Sams on 05/20/2004
Benchmarks
Test Bed:
AMD Athlon XP 2000+ OC'd 2400
ASUS A7V333
512MB PC2100 DDR RAM
Samsung 40GB contains OS
Western Digital 200GB 8MB cache contains data for writing
The benchmarks represented here were made with fresh media, written with data such that it was completely filled. We tested against pressed media to make sure that our burned media was not a constraint on the drive at any point. It was not
CD Tests
Nero CD Speed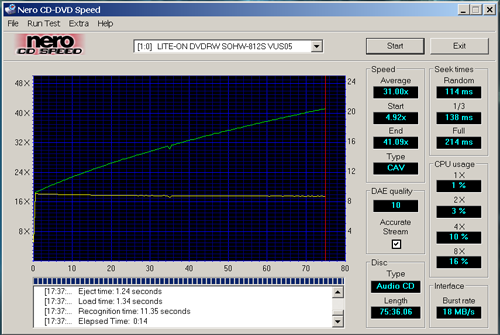 DVD Tests
Nero DVD speed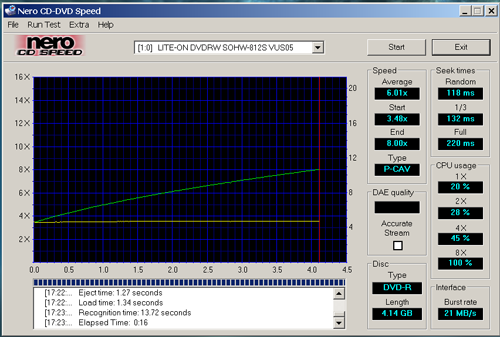 As stated earlier, the drive shows disappointing read speeds, maxing out at 8x with most media. This is troubling, considering that the drive is rated at 12x. We asked Lite-On if they had experienced any problems along these lines, and they responded that they had not. Further, no one on any of the major DVD bulletin boards have reported similar problems with this drive. However, seeing that multiple programs, even with the newest firmware, reported the same thing on a range of media, we must conclude that the problem is with this particular drive.
SiSoft DVD

Media
Burn Time
ComaptibilityDVD/HDD Panasonic video recorder*
1999 RCA TV + DVD player*
CD-R (52x)
2:54
DVD+R (8x)
8:04
n/y
n/n
DVD+RW (4x)
14:03
n/y
n/n
DVD-R (4x)
14:33
y/y
n/y
DVD-RW (2x)
29:02
y/y
n/n
*no-booktype change/booktype set to ROM. Note that this drive has to be updated to the newest firmware to support changing of booktypes. The first two revisions failed to allow changing of the Bookttype settings.
First a note on the media used. High speed -R/W media is not readily available. In fact, at Buy.com, at the time of this review, this was the highest speed media available for -R/W media. Nevertheless, we were surprised to see that -R burned more slowly than +RW. As a comparison for burn times, the Plextor PX-504A, a lauded drive just a few months ago, burns the same CD in 5:38 and DVD+R in 18:34. We are waiting for high speed media to hit mainstream markets. The drives are there at very affordable prices, but the media manufacturers are not following suit. This is probably the case for two major reasons. One being that the price of DVD media per disc is higher than that of CDs, though cost per MB is comparable. A number of factors, specifically encryption on video DVDs and difficulties stemming from DVD9 has made the DVD burning process much more difficult to a normal user, surely driving demand for media down, slowing.

The numbers shown here are not bad. Having a 16x DVD-ROM in your box would drastically improve ripping time for DVDs, but unless you have the newest top-of-the-line or a dedicated CD burner, you will not be needing a separate optical drive for you CD burning needs. Even then, the time improvements over the ones achieved by this drive would not be considerable. If building a new box, it would be hard to justify putting another optical drive in it, except for direct CD-to-CD copying. DVD-to-DVD copying, especially for back-up purposes, is not as much of a factor due to the fact that most DVDs now are dual layered and have to be split anyway.
Shopping Matches for Lite-On SOHW-812S DVD±RW Burner:

| | |
| --- | --- |
| :: Copyright © 2002-2008 Techware Labs, LLC :: All Rights Reserved | |