Samsung SW-240 & SM-332 CDRW
Review by Navid Mortezaei on 05.27.2003
Testing:
Test Rig:
-Samsung SyncMaster 172B (Provided by Samsung Canada)
-Intel Pentium IV 2.53Ghz (Provided by TigerDirect)
-Albatron PX845PEV PRO (Provided by Albatron)
-256MB PC-3200 OCZ DDR RAM
-ATi Radeon 9700PRO 64MB
-Windows XP Professional Edition Service Pack 1
-Samsung SW-240 & SM-332
Writing Times:
The first tests are CD write times. Ahead Nero Burning ROM 5.5.10.0, which is one of the best burning software available on the market today, was used for these tests. Two different brands of CD-R media were used for testing these drives: the Samsung CD-R's that came with the drives and Memorex 40x CD-R's.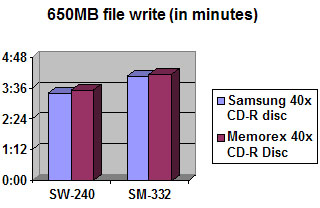 Some very good results were seen from both drives (note that lower is better). The SM-332 took about a minute longer, because it was burns at 32x, compared to the SW-240's 40x write speed. However, both drives achieved good results and the speed wasn't significantly effected based on the media used.
Nero CD Speed:
The second set of tests was done with Nero CD Speed, and all the test options were selected. The first test of each drive was with a pressed CD, the second was with a burned CD.
Pressed CD:
SW-240: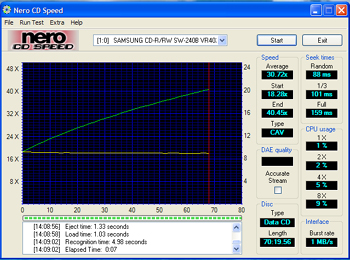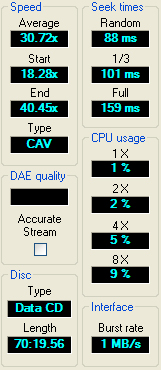 SM-332: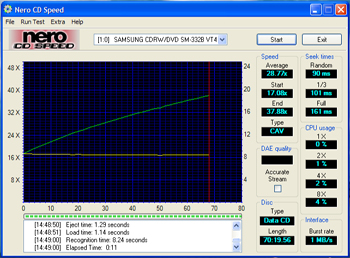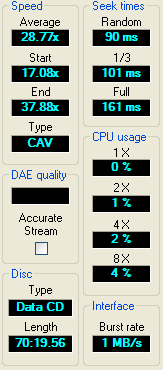 Both drives achieved good results from testing with a pressed CD. All figures were roughly the same on both drives, with the SM-332 achieving marginaly lower read speeds and CPU usage percentage, and marginally higher seek times. (Higher read speed is better, lower CPU usage is better, and lower seek time is better.) This means the SW-240 beat the SM-332 by a small margin on read speed and seek time tests, falling slightly behind the SM-332 in CPU usage. Overall, however, both drives performed nearly identically, and both drives have good CD reading capabilities.
Burnt CD:
SW-240: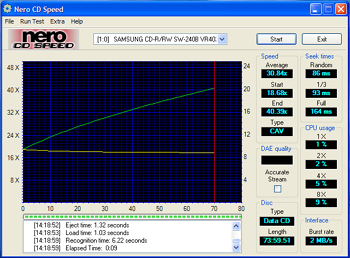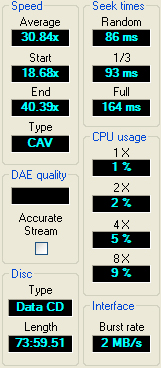 SM-332: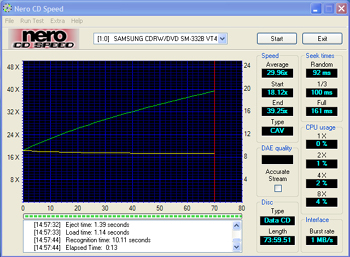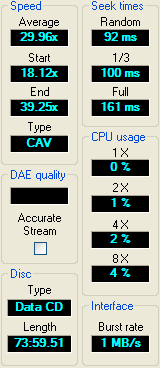 Here the results were roughly better than the pressed CD test, and again the SM-332 did better in CPU usage, but was just slightly slower than the SW-240.
Nero InfoTool:
SW-240: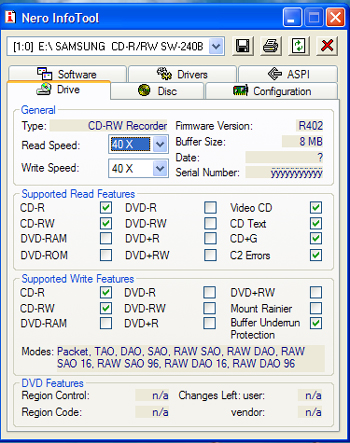 SM-332: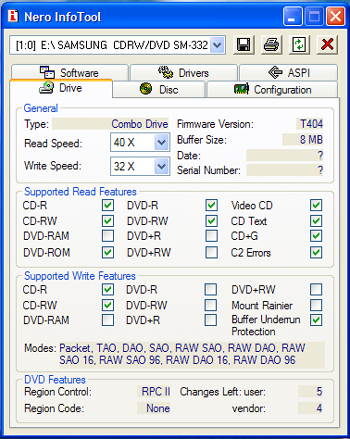 Nero Info tool lists specifications and features of an optical drive. This confirms the features and specifications discussed earlier. The main difference between the drives, as illustrated here, is the write speed, and supported read features.
MP3 Encoding: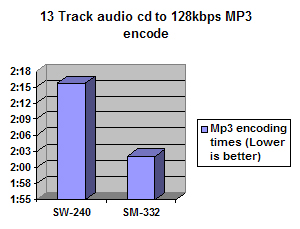 Creative Playcenter3 was used to rip and encode 13 tracks (songs) from an audio cd to MP3 format, and the time it took to accomplish this was measured. As with the read tests, both drives had great results. However, contrary to what the read speed results indicated, the SM-332 was able to accomplish this task approximately 13 seconds faster than the SW-240. But overall they both got very acceptable times.
DAE (Digital Audio Extraction):
SW-240: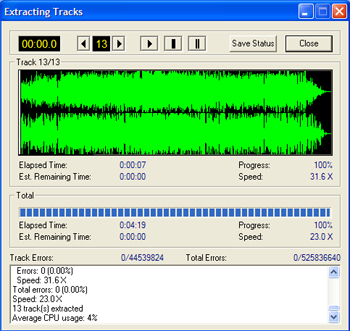 SM-332: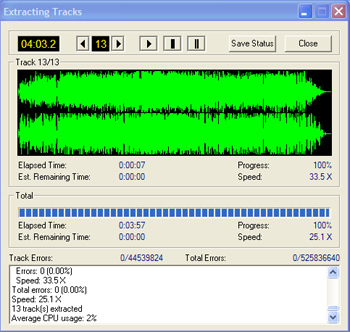 CD DAE was used to test the DAE of these drives. Both drives ran the tests smoothly with no errors. As with the CD audio rip to MP3, the SM-332 beat the SW-240, this time by 22 seconds, as well as having achieved a higher final and average read speed, and still utilizing less CPU than the SW-240. It would seem that the SM-332 pulls ahead of the SW-240 in audio-related reads.