Vizo Luxon External Hard Drive Enclosure
Vizo Luxon External Hard Drive Enclosure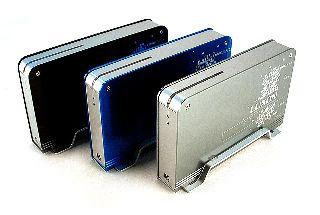 Vizo has sent us yet another fine product up for review - their Luxon series of external hard drive enclosures. With three colors: black, gray, and blue, as well as IDE, SATA, or eSATA capability, these enclosures have everything that a person could want.
Specifications (from vizo.com.tw):
DESCRIPTION:

Vizo presents Luxon 3.5" HDD External Enclosure featured with IDE & SATA interface. Serial ATA (SATA) hard drives feature faster speeds, easier configuration; it is the next generation that provides error free data transmission at high speed. The sturdy drive cage protects your hard drive while the aluminum case effectively draws away the heat, protecting your drive from overheating. With high-quality mirror finish & sleek stylish face and installation easily to carry conveniently.


FEATURES:

Fully support 3.5" IDE or SATA Hard Drive
Support 480Mbps High Speed USB 2.0 and USB 1.1
Support 1.5Gbps High Speed Serial-ATA
4 functions in it :
USB to IDE HDD, USB to SATA HDD
SATA to IDE HDD, SATA to SATA HDD
Mirror finish & rich 3 colors (Black, Blue, Silver) available
Aluminum housing for excellent heat dissipation.
Support plug and play & hot swappable
Must be attached to hot swappable compliant host to enable hot swappable function

SPECIFICATIONS

Model: LUX-350SA-BK, LUX-350SA-BL, LUX-350SA-GY
Interface: USB 2.0 & SATA
Dimension: 210(L) x 125 (W) x 34 (H) mm
SYSTEM REQUIREMENT
USB: Window 98SE/ME/2000/XP/Vista/Mac OS 8.6 & Above
Serial ATA: Windows 2000/XP/Vista/Mac OS 8.6 & Above
PACKAGE INCLUDES
Enclosure
Power Adaptor
Power Cable
USB Cable
IDE Power Cable
Sata Bracket
ExternalSATA Cable
Internal Sata Cable
Internal IDE Cable
User Manual
Screws Package
Stand
Driver CD
Cleaning Wiper

Packaging:
| | | |
| --- | --- | --- |
| | | |
| Box Front | Box Rear | Contents |
The Vizo Luxon comes with the metal enclosure, USB adapter, enclosure stand, manual, cleaning cloth, AC adapter, screws, and small hex screwdriver. The eSATA enclosure also comes with an eSATA cable.
NOTE: In order to utilize the capabilities of eSATA your motherboard must support eSATA or you must have an add-on controller that supports eSATA. Normal SATA controllers or ports on your motherboard will not operate as eSATA ports.
Installation of our test hard drive went smooth and easy. As you can see the internals are simple and installation is pretty straight forward.
What's inside:
| | |
| --- | --- |
| | |
| Two pieces | Close-up of SATA plug |
| | |
| --- | --- |
| | |
| Underbody | Installed |
The blue enclosure was also sent to us in eSATA form to test:
| | |
| --- | --- |
| | |
| Black SATA | Blue eSATA |
Testing:
Powered on, the top plexiglass sliver lights up blue. During HDD access, this color changes to purple, we found the hard drive light to be one of the easier to see of the many external enclosures we have tested.
| | |
| --- | --- |
| | |
| Powered | HDD Access |
Gallery on Vizo.com.tw:
Conclusion:
This enclosure has very nice lines, as well as a nicely designed vent on the bottom. The image on the side is classy, and the mirrored finish adds a nice touch to any room. Its aluminum construction allows the case to be light, as well as an efficient heatsink. The only thing we didn't like was how hard the screws had to turn to secure the enclosure, but this can be fixed by using a better screwdriver located around the home. Though it is a nice enclosure, the $65 price tag we found did not seem to be too easy on the wallet. Although for an eSATA equipped external drive enclosure with good looks it is priced appropriately.