HighPoint RocketRAID 404
Reviewed by Akimoto
Provided by HighPoint Technologies
Installation was a figurative breeze. On the physical side, the card is rather large, and takes up a lot of space once the IDE cables are inserted, so it is best to use a PCI slot who's neighboring slots are free. This should not be a problem considering that most mainboards today come with a host of PCI slots, a good portion of which will not be used by even the average enthusiast. Upon power up, the card makes its presence known with a series of very audible beeps, and then initializes itself after the regular system POST.
Pressing ctrl-H prompts the HPT404 BIOS configuration (Figure 4).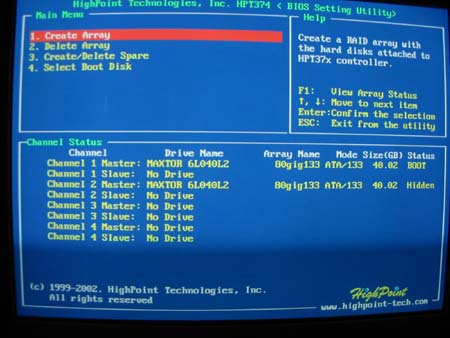 Figure 4
When the Create Array option is selected, 4 options appear: RAID 0, RAID 1, RAID 0/1, or JBOD. If RAID 1 is selected then 2 options will appear: Duplicate or Create Only. Duplicate allows the user to select a disc that will be duplicated in the creation of the array. Create Only will allow the Bios to destroy all the data on the selected discs. After selecting the array desired, the user will be asked to name the array, and then select from the available discs to create it. If either 0 or 0/1 was selected, a final screen will appear asking the user to select the stripe sizes, and the available options are 16k, 32k, or 64k. 64k data striping is best for audio/video editing, and it was the stripe size used in the upcoming tests. The user can also delete arrays and add discs to the spare pool. If a drive in a 1 or 0/1 array fails, then the spare will be used to rebuild the array in order to maintain redundancy. A nifty security feature is that if the controller detects the problem but no spare is available, it presents the user with a few options: power off and replace the failed drive, choose a replacement drive that is not listed as a spare, or destroy the mirroring for the time being. Additionally, since the card is hot swap compatible (with a compatible drive bay), this is an available option for replacing a failed drive.
The BIOS is very well configured, however the proprietary Windows software that accompanies the card is easier to use, more functional, and has a few more features. Let's check it out!