Albatron FX5700 Ultra
Reviewed by James Sams on 03.02.2004
General Layout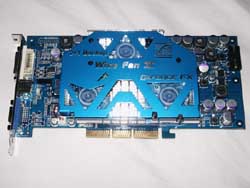 The card itself is a bit of a beast. As all Geforce FX cards this one requires additional power from a 4-pin molex. This is becoming more common as video cards are power hungry and the AGP slot does not provide enough power by itself for today's cards. ATI is still attempting to avoid this necessity, though not always succeeding. With the heat that processors and hard drives are producing now, the last thing most need in their box is another heat producing entity, which any card that requires outside power inevitably will be. Thankfully, Albatron has veered from the reference design and designed a custom heat sink/fan combination they dub Wise Fan II. The system features three fans, two of which remain powered all of the time, with the third one kicking in if the heat gets above what the card thinks is an acceptable level. Also, if one of the fans dies, the other one will automatically kick in permanently. However, there is no feature that lets you know if one of your fans have died, though this shouldn't occur its a great feature especially on video cards today.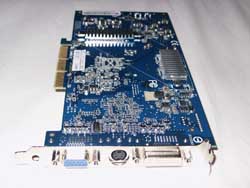 The heat sink itself is for the most part a very satisfactory cooling solution. However, the device itself falls short in one area while the system itself has another 'flaw.' The the thermal pads for the RAM are about 2mm thick, a bit much even for thermal adhesives. I'm curious as to the impact this has on the RAM over clocking. However, the RAM sinks for the back of the card are sufficient, though by no means generous. However, many manufacturers fail to provide any RAM sinks whatsoever, and we applaud Albatron for doing so.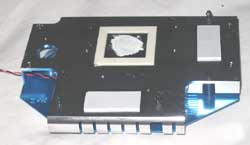 The second 'flaw' that cropped up in the cooling solution was the amount of thermal goop used on the GPU. Anyone who has ever done over clocking knows that there is a middle ground for how much 'goop' to use. A thin layer, fully covering the GPU, but not so thick that it seeps out when the heat sink is placed on top is just right. Albatron simply used too much, remnants of which you can see in the picture of the GPU. Again, this is forgivable. Most manufacturers go heavy on the goop, or use those horrible thermal pads.
Card Specifications
| | |
| --- | --- |
| Model Number: | FX5700 Ultra |
| Engine Clock Speed: | 475MHz |
| Memory Clock: | 450MHz (900MHz effective data rate) |
| Memory: | 128MB DDR-II |
| AGP version: | 8x |
| DirectX Version: | 9 |
| Manufacturing Process: | 0.13u |
| Memory Width | 128 bit |
| Vertex Shader version: | 2.0+ |
| Pixel Shader version: | 2.0+ |
| Pixels/Clock | 4 |
| Outputs: | VGA, DVI, S-Video |
| Included accessories: | Driver CD, WinDVD Creator, Games Pack, full version of Duke Nukem: Manhattan Project, S-Video male-male cable, S-Video-to-Composite converter, 6' male-male Composite cable |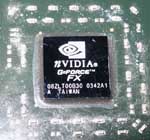 The 5700 Ultra's GPU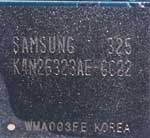 The RAM is Samsung's K4N26323AE-GC22 2.2ns RAM, which produces 900MHz data rate. Some other companies are using the 2.0ns, -GC20, which provides 1000MHz. Reports have floated around that the 2.0ns RAM is in some of Albatron's 5700 ultra cards, though there is no way to tell by looking at the box which you are getting.
Benchmark Setup:

SiS 746FX
AMD XP 2000 oc'ed to 2400
1 x 40 GB Samsung HDD for OS and game installation
1 x 100 GB WD HDD for Swap
1 x 200 GB WD HDD for data recording (all HD's on separate ATA channels)
512 MB PC2700 RAM
Creative Audigy
Windows XP - all updates
Latest Detonator drivers available were used.
Note: With the release of DirectX 9 games, the test suite used by Techware Labs is being upgraded. Unfortunately, this is the first batch of cards to go through this suite, so comparisons for some tests will be lacking. However, our numbers from previous cards will be given where available. As we continue to phase in the test suite, our newer reviews will feature valid comparisons with other DirectX 9 cards.
Shopping Matches for Albatron FX5700 Ultra: