Round Up - Integrated 3D Graphics Motherboard Shootout
Review by Edward Chang, call sign: Big_E
September 22, 2002
FIC AT31 Fusion
The Board: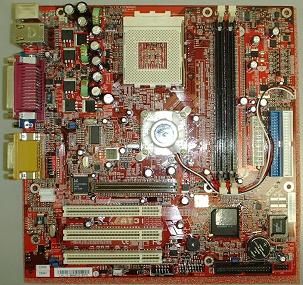 The First Edition
The FIC AT31 sports a PCB that compliments ATI colors. In comparison to other motherboards around, this FIC AT31 has a rather peculiar design. Two components immediately stand out: an unusually placed ATX power connector and the long wire circumventing the memory slots that provide power to the AT31 Northbridge cooling fan. This poses no harm, but is just aesthetically unpleasing. The placement of the ATX power connector proves beneficial; as it allows the ATX power cable from the power supply unit to stay clear of the CPU cooler. Among other intrigues, the ATI IGP320 is coupled with an older VIA 686B Southbridge, rather than the familiar VT8233 found on most KT333-based motherboards. Furthermore, it has two jumpers for FSB selection. Overclocking features on this integrated motherboard was less than spectacular; supporting limited FSB frequency selection in the BIOS and no voltage tweaks. The integrated ATI Radeon VE graphics chipset, Realtek 10/100 ethernet, and room for upgrade makes this board an ideal integrated micro-ATX solution for a low-end system.
Processor:
AMD Duron Socket A 600~1.2GHz@200MHz FSB
AMD Athlon Socket A 700MHz~1.4GHz@200MHz FSB
AMD Athlon Socket A 1GHz~1.4GHz@266MHz FSB
AMD Athlon XP Socket A 1500+~2100+@266MHz FSB
Chipset: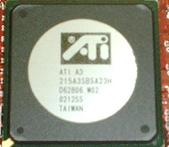 ATi IGP320 chipset
Memory:
2 DDR DIMM; up to 2GB PC2100 DDR SDRAM
Onboard Audio:
Integrated audio in the VIA 686B (Audio could be disabled via BIOS)
Onboard I/O Connectors: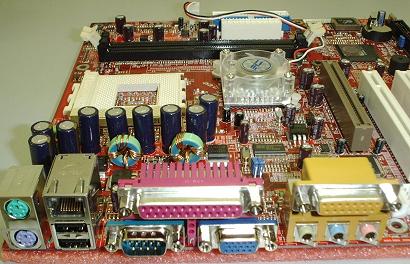 2 serial ports, 1 parallel port, 1 PS/2 mouse and keyboard connector, 2 USB connectors + 1 USB front pin-header supports 2 devices, 1 media connector (Line-in, Line-out, Mic-in, Game port)
Onboard PCI IDE:
2 dual-channeled enhanced PCI Bus Master IDE connectors
Ultra DMA 33/66/100
Onboard LAN:
Realtek 8100L 10/100 Mbps
Expansion Slots:
1 AGP (4X), 3 PCI
BIOS:
ACPI 1.0B, APM 1.2, PnP 1.0a, SMBIOS 2.3, DMI 2.0 , WfM 2.0 , Smart for HDD, USB 1.1, PC99, PCI 2.2,Y2K compliant
Form Factor:
uATX 9.6" x 9.6"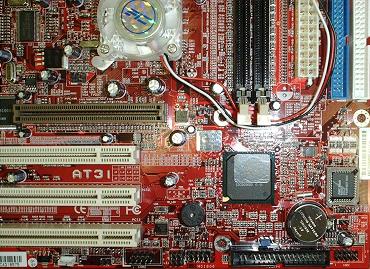 Southbridge vicinity
Protection & Managment:
ACPI ready(STD)
CPU and Memory FSB settings
Hardware Monitoring: Temperature/ Voltage/ System fan control monitoring
Hardware based intelligent anti-virus protection Auto Power Failure Recovery
WOL
Keyboard/Mouse wake up
NOVUS: Clockometer, Overclock Partner, Hot Key, Logo Genie, BIOS Guardian, and
Package Contents:
1 motherboard
1 TV Out Card
1 manual
1 CD-PRO
1 CD-Plus
1 Power DVD XP
1 ATA33 IDE Cable and 1 FDD Cable