A Closer look:
Initial Thoughts:
This is definitely durable the "Anodized aluminum core" provides a respectable amount of weight and gives you the feeling you could physically beat someone mid LAN without worrying about damaging it. The Gel wrist pad isnt attatched which I appreciate, obviously it would ruin the double sidded nature of the Pad but the freedom to decide its use is comforting. The pad itself looks great and the rubber feet are going to hold this pad in place no matter what side you choose.
Testing:
I will be testing this mouse pad with the Thermaltake Black Gaming Mouse, this mouse can take full advantage of both the speed and control sides of the ALUMIC as it has adjustable DPI.
Mouse Specification:
‧ Model : BLACK gaming mouse(MO-BLK002DT)
‧ DPI : 400/800/2000/4000
‧ USB data format : 16 bits
‧ Max Acceleration : 50G
‧ Max Speed : 90IPS
‧ Report rate : 500 reports per second
‧ Tuning Weight : Yes (4.5gx5)
‧ On the move DPI : Yes/4 levels (400/800/2000/4000)
‧ Buttons (Left / Right) : 5 million clicks
‧ Cable length : 1.8 m braided
‧ Feet material : Teflon
‧ USB connector : Gold-plated
To Test this mouse pad I will be measuring the distance the mouse has to travel on my bare desk vs the ROCCAT ALUMIC. For anyone who thinks I am giving the pad an unfair advantage, my desk if a matte black material called HDF made by this company, so it is the next best thing to a mouse pad.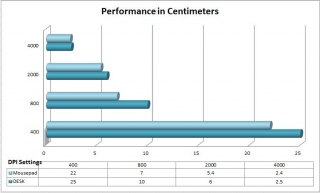 Obviously we can see the most drastic performance difference at the lowest DPI, but the numbers were impressive.
Conclusion and Usability:
This is what it all boils down to, the best performance in the world doesn't make up for a product that is a daily nuisance. The ROCCAT ALUMIC is very well designed and has great usability. the sturdy design performs flawlessly holding place in your desk and making you forget its actual placement. my mouse has Teflon feet, and over months of use I frequently have to clean them off because of gathering dust that leads to excessive drag. Using the speed side of the mouse pad I was reminded of the first usage of my mouse, the scratches on the feet reflecting the frequent use was a thought of the past. The size is not oppressive and it doesn't impact the desk space, due to the compact size this would also be a welcome addition to any LAN kit. Unfortunately, this is not for sale at any US retailers yet, but I do look forward to seeing more products from ROCCAT Studios when they break into the US market.