Thoughts and Impressions
Many have noted that the R9 270X is based on AMD's older Pitcairn architecture. While it would have been nice to see a clearer delineation between Pitcairn-based and Hawaii-based GPUs, the benchmarks we've seen make it clear that the R9 270X is no slouch.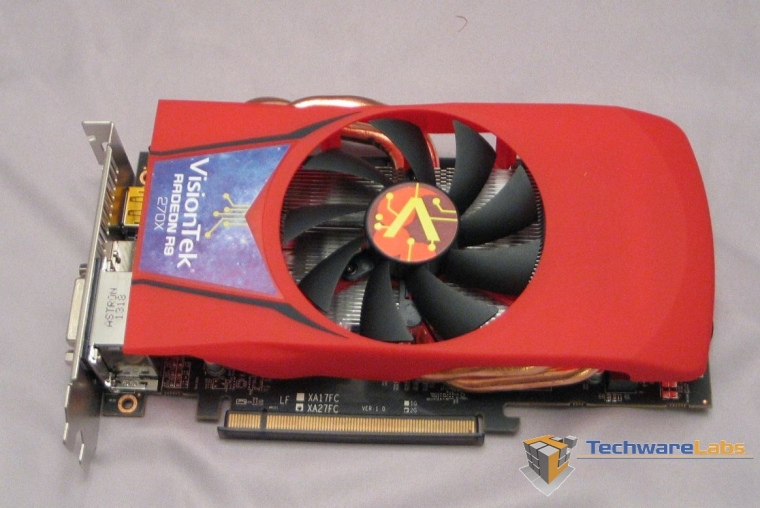 As far as VisionTek's contribution to the design goes, this is a solid implementation of the R9 270X that thankfully avoids AMD's noisy reference cooler. While still somewhat noisier under load than a dual fan cooler would be, the cooler on the R9 270X is still well within reasonable noise levels. As we mentioned earlier the VisionTek 270X performed very well at keeping temperatures within check. Load temperatures stayed in the mid 70's, while at rest it idles at 30 degrees–3 degrees cooler than my CPU, which is a highly unusual state of affairs!  For overclockers and enthusiasts this is really a bright point for selecting VisionTek's offering. It will allow you to overlock this card that much more while still keeping things cool.
Conclusion
So, is this card worth the money? Regardless of which GPU maker you go with, $200 isn't going to get you a screamingly-fast video card. What it will get you is a fairly solid performer that does a reasonable job of gaming at 1080p. The R9 270X is certainly no slouch in the performance category. Given that Nvidia's cheapest option this generation is still $50 more, this card represents a great deal for the gamer on a budget. Add to that the fact that the cheapest 270X at the time of this publication is about $203 and the VisionTek offering comes in at $199 and adds to it excellent cooling and great performance for the money and you have a winning combo.
This is as much a win for AMD as it is for VisionTek. AMD continues to release compelling offerings in the graphics market that give gamers a reason to celebrate. While the 270X wont win any speed or performance battles it does win the contest for where you should spend your money. In the performance for your dollar category the 270X is a very appealing product and VisionTek's version adds to this by quieting the beast while providing excellent cooling. Heat is the enemy and VisionTek has done some Voodoo magic here and managed to make the card quiet and cool. As I said, gamers rejoice. To add to the mix VisionTek offers a lifetime warranty on the card and lifetime US based tech support transforming this from a great buy to MUST HAVE hardware. A pair of these in Crossfire would make for some awesome gaming experiences.
With all of this in mind the VisionTek qualifies for our TechwareLabs Gold Award. It offers compelling performance, an edge over other market entries, and good value for your dollar.