Introduction
And again, AMD has released a new processor into their lineup. This time around we have the introduction of a new series,  Phenom II x4 840 3.2GHz. This new chip brings the Athlon II architecture over to the Phenom II space by not providing any L3 cache. Infact, the 840 is based on the quad core Propus architecture that the Athlon II x4s use. This puts a sub 100watt processor into the Phenom II line and brings the Propus architecture up to 3.2GHz. If it's not obvious, this is simply a slight speed bump and a name change to an already existing product, the Athlon II x4 645 3.1GHz. The 840 is also now the fastest sub 100watt quad core processor that AMD makes. So, while the obvious re-branding is still there, we still get a lot for the $102 that it costs. And that's cheaper than the Athlon II x4 645.
So, what can this newbie do? Lets find out.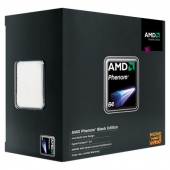 Closer Look
Like I said before, almost identical specs to the Athlon II x4 645, but we get a 100MHz speed bump and a new name; plus it's $10 cheaper. If it's not obvious already, AMD is marketing this for value.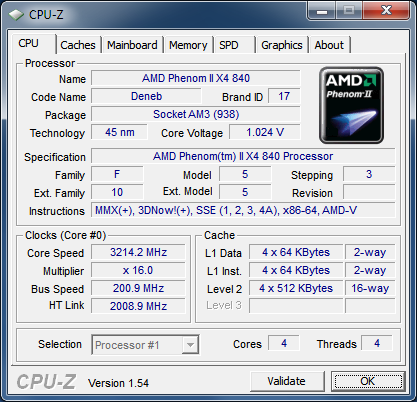 Specifications
AMD Phenom II X4 840 Processor:
Model Number & Core Frequency:
X4 840 / 3.2GHz
OPN:
HDX840WFK42GM
L1 Cache Sizes:
64K of L1 instruction and 64K of L1 data cache percore (512KB total L1 per processor)
L2 Cache Sizes:
512KB of L2 data cache per core (2MB total L2 perprocessor)
Memory Controller Type:
Integrated 128-bit wide memory controller *
Memory Controller Speed:
Up to 2.0GHz with Dual Dynamic Power Management
Types of Memory Supported:
Unregistered DIMMs up to PC2-8500(DDR2-1066MHz) -AND- PC3-10600 (DDR3-1333MHz)
HyperTransport 3.0 Specification:
One 16-bit/16-bit link @ up to 4.0GHzfull duplex (2.0GHz x2)
Total Processor-to-System Bandwidth:
Up to 37.3GB/s total bandwidth [Upto 21.3 GB/s memory bandwidth (DDR3-1333) + 16.0GB/s (HT3)]

Up to 33.1GB/s total bandwidth [Up to 17.1 GB/s memory bandwidth

(DDR2-1066) + 16.0GB/s (HT3)]

Packaging:
Socket AM3 938-pin organic micro pin grid array (micro-PGA)
Fab location:
GLOBALFOUNDARIES Fab 1 module 1 in Dresden, Germany
Process Technology:
45-nanometer DSL SOI (silicon-on-insulator) technology
Approximate Die Size:
169 mm2
Approximate Transistor count:
~300 million
Max TDP:
95 Watts
AMD Codename:
"Propu
*Note: configurable for dual 64-bit channels for simultaneous read/writes