CES Day 1 Coverage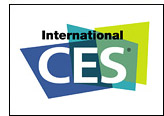 Digital Social Networking
We are all going to have to get very familiar with this term, what it means, and how this will affect all aspects of our lives. Many companies at CES have recognized that the younger generation of consumers uses their phones and PDA more for text, video, and browsing online than for actual voice communications. Thus we see products catering towards "digital social networking" which is the concept of communication through shared digital media and connected devices.
What does this mean to me, you, and others?
It means that you will see a growth spurt of digitally network connected devices and their ability to share media. You may notice on a larger scale the very slow decrease of face to face and even voice communications. Personally I think it's a sad statement for the younger generation and will lead to social problems but then im not a psycho or social analyst.
Every major cell phone manufacturer and media device manufacturer is creating portable devices with the capability to share media wirelessly. Wireless USB is going to give this new concept a good deal of support in becomming a major mode of communication in the next few years.
Manufacturers and Products:
We managed to stop by the CoolIT Systems booth and speak to Geoff who showed us a flurry of cool products . . . literally. They have dual bay coolers that fit SLI and crossfire solutions in addition to some amazing new products to manage heat inside your case. One of the more interesting prototypes we saw is a product aimed at cooling an entire rack filled with servers. The front door of this rack has a radiator built into it which is the same size as found in some of the Honda cars and is outfit with two huge fans. Obvoiusly noise is not a concern in a server room and this device works via quick connects which allows IT admins to pop a new server in and connect it without even having to shut down the system. The grand daddy of all of their products is the Boreas chiller which operates on 12 TECS and is capable of removing up to 600+ watts of heat while only consuming a little more than 130watts of power. This product definitely is must have hardware for the cooling puritans among us. Check out our gallery on the next page for the pics of this system as well as many others.
We also stopped by Vuzix and Myvu, two companies with products that compete on some levels. Both of these products are essentially a pair of slim glasses that have small but high resolution LCD's embedded into them. These allow the user to watch a pair of LCD screens which simulate a much larger 40+ inch screen. While the Myvu gets points for style, clarity, and price, the Vuzix does have the added capability of movement tracking allowing a user to turn your head and having your game follow the movement. According to Vuzix their latest drivers eliminate the need for users to rely on special drivers from Nvidia to play games and expand their product's usability to all video cards and games. We experienced significant lag in response time during our trial demo of the Vuzix glasses which may represent a serious issue for gamers.
Cooler Master has their new subdivision named CSX which offers some amazing cases and products. I wish my car had a paintjob nearly half as nice. At an average of $900 for these cases they are not for those with a light wallet. Check Please! Cooler Master has also announced their latest heatsinks which are massive in addition to being quite a change in direction for them design wise. The V10, V8, and others will be shown on our site as well as reviewed shortly.
Sandisk announced at its press conference that it is pushing ever deeper into the SSD market as well as making significant additions to its already substantial USB flash drive product line. The Cruzer Titanium Plus offers automatic online backup of any file copied to the drive, so if you lose your drive your files are still accessible. Announced today, Sandisk has a full line of Video HD SDHC cards which are rated by minutes of recording time allowed. We don't see how these cards differ from SDHC cards already on the market with the exception of being marked by recording time. Are consumers out there in need of such explanatory statements that an entire product line is created for this kind of thing?