Computex 2007 Coverage
Computex Vendor and Event Coverage:
Most of the vendors demonstrate their products at special parties and publicity events. We attended several during our coverage of Computex.
Thermaltake:
Click on the Image for a Larger Photo
Thermaltake was showing off some LED fans that displayed moving text as well as some LED fans that just looked plain cool. These will be absolute must haves for case modders and anyone who simply needs to add more bling to their case. Admit it we all need more bling. We were told that programmable customizable fans were being developed and would be offered shortly. Check out our Video of them in action. At the Thermaltake party John Chow's wife from The Tech Zone and Stephen Fung from Futurelooks both won an Ipod Nano, both the party and the entertainment was top notch.
Cool IT Systems:
One of the companies that continues to show off really innovative products is Cool IT Systems. We absolutely love their stuff and their thinking. The Cool IT Systems Freezone, Freezone Elite, and new cooling system for video cards were on display. Their software that compliments the Freezone and Eliminator anticipates temperature rises and will increase cooling power to keep the system at a constant temperature that you can predefine. The best fact is that the software actually works. Click on the pictures below for video demonstrations.
MSI:
MSI continues to have a strong showing of many different products that range from their commonly known motherboard solutions, video cards, and MP3 players to their lesser known GPS devices and awesome notebooks. MSI introduced the worlds first notebook that dynamically overclocks via a Turbo Button instantly boosting performance at a single click. Check out our video of it in action to watch it go from 2000MHz to 2600MHz in a single click.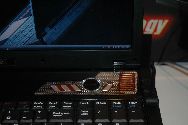 Click on the Image for a Larger Photo