Paragon Disk Manager 2008 Suite
Paragon Disk Manager 2008 Suite

Paragon Software sent us their Hard Disk Manager Suite 2008 utilities for us to take a look at. If you have been in the computer field for at least a few month you should be by now be aware of system tools that assist the average personal computer to run at its best. These tools include disk defragmenter, system backup, and check disk (CHKDSK). In the world of XP and prior, these tools were there but more then likely the average user never used them. In the world of Vista, Microsoft has set up the defragmenter with a default schedule to run automatically. The engineers at Paragon Software have taken the defragmentation, backup and recovery one step further. Let's take a look.
Installation
The installation required only the standard product key and serial number. Make sure to put this information in a safe place so you can install the software later if needed.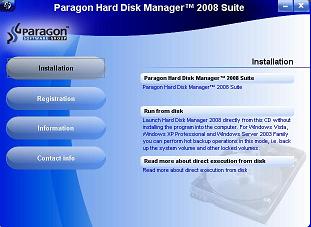 After the install and registration you are presented with the main menu which has only a few options to choose from. Each of the available options have a short explanation to give the user an idea of what each option means.
Protect System and Data
The "Protect System and Data" option is a simple click and go backup tool which can backup the system at a partition level. This option to backup and recover a drive is very similar to the OS level backup and restore that is native to Windows. The one addition to this is the ability to use Paragon's recovery software to potentially restore your backup image of the OS volume from scratch when your hard disk is lost and your replacing the drive with a new one. Which we will cover later in this review.