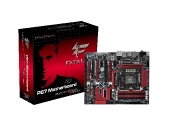 Introduction
ASRock in partnership with Fatal1ty brings one of the first Intel 1155 socket Sandy Bridge based motherboards to market designed for gamers.  This enthusiast motherboard featuring the Intel P67 chipset is designed to harness the full potential of Intel 2nd Gen Core series processors.  A new socket and chipset presents many challenges to engineers but also challenges motherboard manufacturer's to find a niche.  With the new partnership announced in December between ASRock and Auravision, master licensor for the Fatal1ty brand, we hoped to see a true focus on the gaming enthusiast. With input from  Johnathan 'Fatal1ty' Wendel the engineers at ASRock introduced some great unique features into the the new Fatal1ty P67 Professional Series Gaming Motherboard. Wendel worked closely with the ASRock team to produce a featured-loaded, rock-solid motherboard that met this professional gamer's standards:
"My goal for the first Fatal1ty motherboard from ASRock, was to take the latest chipset, and work with ASRock engineers to develop a motherboard specification that would be an awesome gaming motherboard. I wanted to make sure the board had a balance of power and speed with the stability gamers need to win."

"ASRock engineers started with a basic P67 motherboard layout and feature set, and I worked with them to change that spec in ways that would better meet the needs of mainstream PC gamers. In addition, we came up with several unique gamer features, such as F-Stream™ and the Fatal1ty mouse port™".
Join me as we walk though the many features and put this motherboard to the test.
Features
Premium Gold Caps (2.5 x longer life time), 100% Japan-made high-quality Conductive Polymer Capacitors
Digi Power, Advanced V16 + 2 Power Phase Design
Fatal1ty Mouse Port™
Supports Intel® K-Series unlocked CPU
Supports Dual Channel DDR3 2133(OC)
Supports ATITM Quad CrossFireXTM, 3-Way CrossFireXTM and CrossFireXTM
Supports NVIDIA® Quad SLITM and SLITM
Dual PCIE GLAN with Teaming function
Dr. Debug, Smart Switch Design: Power/Reset/Clear CMOS Switch with LED
Supports Fatal1ty F-Stream, Instant Boot, Instant Flash, Good Night LED, Multi-Fan Speed Control, AIWI, APP Charger, SmartView
Combo Cooler Option (C.C.O.)
7.1 CH HD Audio CP , THX TruStudio PROTM and Premium Blu-ray audio suppport
Boot Failure Guard (B.F.G.)
Combo Cooler Option (C.C.O.)
APP Charger
Instant Boot
Instant Flash
AIWI