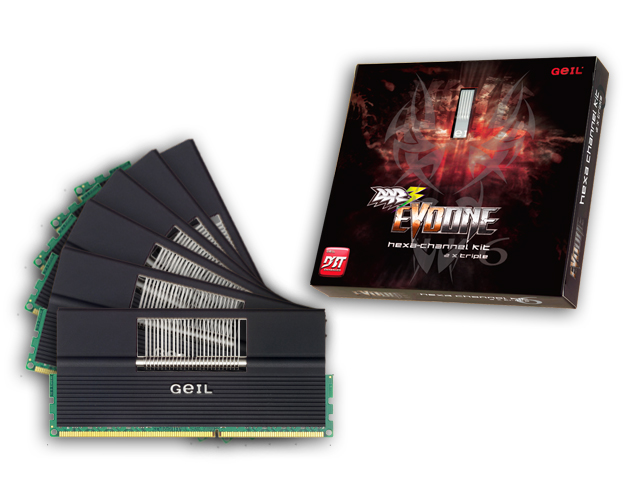 Introduction:
There's only so much a CPU can do. It could be as fast as possible, and your computer will STILL need the memory to properly handle the processes. But what happens if a user would like to burn a disc, listen to iTunes, and play FEAR 2 all at once? The folks at GeIL have realized this common problem, and released the all new Evo One 12GB DDR3-1600 Hexa kit. Why 12GB you ask? Because who the hell wouldn't love to tell their friends they have enough RAM to store Vista 64-bit on?
From GeIL.com.tw:
The Hexa-Channel Kit is specifically designed to compliment the Intel® Core™ i7 processor and the X58 Express Chipset. Combined with GeILs' IC testing/sorting technology, each of GeILs' DDR3 memory module is enhanced for optimized speed, low latency and high stability. Together with GeILs' EVO III IC testing and DBT production process, the DDR3 Gaming EVO ONE Hexa-Channel is every gamer's ultimate memory solution. Perfect Game Perfect Memory!
Specifications & Feature:
Available Speed & Working Voltage:
PC3 12800 1600MHz CL 7-7-7-24, Working Voltage 1.65V
PC3 12800 1600MHz CL 8-8-8-28, Working Voltage 1.65V
GeIL recommends the ASUS Rampage II Extreme platform.
Available Capacity: 12GB (2GBx6) Hexa-Channel Package
Heat-spreader: EVO ONE Heat-sink System with MTCD Technology
Warranty: Lifetime
Technology: DBT (Die-hard Burn-in Technology) Enhanced
Model Number | Product Name:
GE312GB1600C7HC | PC3 12800 1600MHz EVO ONE Hexa-Channel CL 7-7-7-24
GE312GB1600C8HC | PC3 12800 1600MHz EVO ONE Hexa-Channel CL 8-8-8-28