Introduction:
It would seem the growing trend lately is bigger, better and faster. Sometimes bigger is not always better, as in the case of Gigabytes new GA-G41M- ES2h micro ATX motherboard. This board promises to  pack a ton of features into the small 9.6″x9.6″ dimensions that make up the micro ATX standard. What may come as a surprise due to its small size and relatively low price range, is this board is designed for high end multimedia and mainstream gaming. Join me in giving this little board a full rundown to really see what its made of, and if Gigabyte can really pull off putting lots of features into a small price and smaller package.

Gigabytes take:
The GA-G41M-ES2H based on the Intel G41 chipset supports the latest Intel 45nm CPUs, creating a powerful multi-media platform which allows users to do more at once. At the heart of the Intel G41 Express chipset is the Intel X4500 graphics media accelerator, which support DX10 and features several unique innovations including more Execution Units for enhanced 3D performance and Intel Clear Video Technology for sharper images and precise color control.
Features:
Intel®G41 + ICH7 Chipset
Revolution energy saving design with Easy Energy Saver technology
Supports 45nm Intel® Core™ 2 multi-core processors with FSB 1333 MHz
Dual channel DDR2 1066(OC) for remarkable system performance
Integrated Intel Graphics Media Accelerator X4500 (DirectX 10)
Features high speed Gigabit Ethernet.
Home theater quality 8-channel High Definition Audio
Integrated HDMI/ DVI interface for Full HD 1080 Blu-ray playback with HDCP
Patented DualBIOS with dual hardware BIOS protection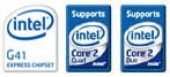 –~~~~~~~~~~~~–
Specifications:
CPU

Support for Intel's Mid range processors, With the exception of the New i5 and i7 Processors.

Support for an Intel® Core™ 2 Extreme processor/ Intel® Core™ 2 Quad processor/Intel® Core™ 2 Duo processor/ Intel® Pentium®processor /Intel® Celeron®processor in the LGA 775 package
L2 cache varies with CPU

Front Side Bus (FSB)

Standard FSB for support for all Core2Duo and Core 2 Quad processors.

1333/1066/800 MHz FSB

Chipset

The Intel G41 Chipset with Intel X4500 Graphics offers users full DX10 OpenGL 2.0 and shader Model 4.0 and gives the motherboard its ability to work with high end media and output through HDMI.





North Bridge: Intel® G41 Chipset
South Bridge: Intel® ICH7

Memory

1600 is only reachable with overclocking DDR2 800 Ram


2 x 1.8V DDR2 DIMM sockets supporting up to 8 GB of system memory (Note 1)
Dual channel memory architecture
Support for DDR2 1066(OC)/800/667 MHz memory modules

Audio

Realtek ALC888B codec
High Definition Audio
2/4/5.1/7.1-channel (Note 2)
Support for S/PDIF In/Out
Support for CD In

Network

GIGABIT Ethernet!!


Realtek 8110SC chip (10/100/1000 Mbit)

Expansion Slots

The PCI-e slot is only running at 4x while not a huge problem I was very disappointed to learn that I will not be able to fully take advantage of the additional video card.

1 x PCI Express x16 slot, running at x 4
3 x PCI slots

Storage Interface
South Bridge:

1 x IDE connector supporting ATA-100/66/33 and up to 2 IDE devices
4 x SATA 3Gb/s connectors supporting up to 4 SATA 3Gb/s devices

iTE IT8720 chip:

1 x floppy disk drive connector supporting up to 1 floppy disk drive

USB Support

Integrated in the South Bridge
Up to 8 USB 2.0/1.1 ports (4 on the back panel, 4 via the USB brackets connected to the internal USB headers)

Internal I/O connectors

1 x 24-pin ATX main power connector
1 x 4-pin ATX 12V power connector
1 x floppy disk drive connector
1 x IDE connector
4 x SATA 3Gb/s connectors
1 x CPU fan header
1 x system fan header
1 x front panel header
1 x front panel audio header
1 x CD In connector
1 x S/PDIF In /Out header
2 x USB 2.0/1.1 headers
1 x serial port header
1 x clearing CMOS jumper.

Back Panel Connectors.

HDMI out only works while using the Intel Graphics x4500. sadly you can't have both on-board graphics and an additional PCI-e Card running at the same time.


1 x PS/2 keyboard port
1 x PS/2 mouse port
1 x D-Sub port
1 x DVI-D port (Note 3)
1 x HDMI port
4 x USB 2.0/1.1 ports
1 x RJ-45 port
3 x audio jacks (Line In/Line out/Microphone)

I/O Controller

iTE IT8720 chip

Hardware monitoring

System voltage detection
CPU/System temperature detection
CPU/System fan speed detection
CPU overheating warning
CPU/System fan fail warning
CPU fan speed control (Note 4)

BIOS

DualBIOS for BIOS redundancy if one fails the back up secondary BIOS will take over and allow you to recover your machine without a total failure. Having dual BIOS's also allows you to recover your primary BIOS chip.


2 x 8 Mbit flash
Use of licensed AWARD BIOS
Support for DualBIOS™
PnP 1.0a, DMI 2.0, SM BIOS 2.4, ACPI 1.0b

Unique Features.

Installed with the included CD.

Support for @BIOS
Support for Q-Flash
Support for Xpress BIOS Rescue
Support for Download Center
Support for Xpress Install
Support for Xpress Recovery2
Support for EasyTune (Note 5)
Support for Easy Energy Saver (Note 5)
Support for Time Repair
Support for Q-Share

Bundled software

Norton Internet Security (OEM version)

Operating software (Software supported)

While not listed, there is limited support for Windows 7


Support for Microsoft® Windows Vista/XP

Form Factor

Micro ATX Form Factor; 24.4cm x 20.8cm

Gigabytes Remarks

Due to different Linux support condition provided by chipset vendors, please download Linux driver from chipset vendors' website or 3rd party website.
Due to most hardware/software vendors no longer offer support for Win9X/ME. If some vendors still has Win9X/ME drivers available, we will publish on website

Notes
(Note 1) Due to Windows Vista/XP 32-bit operating system limitation, when more than 4 GB of physical memory is installed, the actual memory size displayed will be less than 4 GB.
(Note 2) To configure 7.1-channel audio, you need connect with the port of HD Audio standard via front panel and enable the multi-channel audio feature through the audio driver.
(Note 3) The DVI-D port does not support D-Sub connection by adapter.
(Note 4) Whether the CPU fan speed control function is supported will depend on the CPU cooler you install.
(Note 5) Available functions in EasyTune may differ by motherboard model.
(Note 6) Due to the hardware limitation, you must install the Intel®Core™ 2 Extreme/ Core™ 2 Quad/Core™ 2 Duo/ Pentium Dual-Core/ Celeron Dual-Core/ Celeron 400 Series CPU to enable support for Easy Energy Saver.
What is noteworthy here is that the G41 platform offers a nice stable offering for nearly any current Intel CPU you can place at its heart. This Gigabyte board offers onboard video, 7.1 audio, gigabit ethernet, and more. Expansion takes the form of 4 USB ports which while not outstanding is not bad for a Micro ATX form factor and can be further enhanced to 8 using a USB bracket and the onboard headers. Gigabyte bundles several of its nicer software packages with this board and the GA-G41M-ES2H takes advantage of Gigabytes DualBIOS features ensuring that you won't accidentally erase your bios and be left with a paperweight.
Onboard the GA-G41M-ES2H we will find support for 1333 ram as well as 4 SATA ports and even support for an IDE drive if needed. There is a PCI-e X16 slot though it should be noted that this slot is only running at x4.
Now lets move on to the GA-G41M-ES2H packaging and included extras.
–~~~~~~~~~~~~–
Packaging:
Honestly I was pretty disappointed by what was offered, I understand this is a low budget board but throwing a few little surprises surely wouldn't have broken the bank.
That being said the GA-G41M-ES2H comes in a small box with only a few additions beyond the board itself. As you can see below Gigabyte is very big on letting you know that this board is a big energy saver.
Inside the box
Users Manual
CD containing some software

G.O.M – Gigabyte Online Manager –  A web based system management tool that allows client system hardware information such as CPU and memory and graphics card and much more to be monitored or controlled via a host.
EasyTune 6 – An easy to use windows-based system enhancement utility allowing quick access to a variety of performance features
DMI Viewer – Provides a management tool for viewing motherboard hardware information
Face-Wizard – Provides a utility for customizing BIOS boot screen with a user set image.
@BIOS – utility to update BIOS through the internet.
Q-Share – easy to use and convenient data sharing tool that makes it easy to share your data with other computers on the same network.
Time Repair – Based on Microsoft's own Volume Shadow Copy Services technology, Time Repair allows you to quickly back up and restore your system data in windows Vista ( and Windows 7 ). Time Repair supports the NTFS file system and can restore your data on both PATA and SATA hard drives.
Update Manager – Updates gigabytes software via the internet.
Trial of Norton Internet Security

2 SATA cables.
Motherboard
I/O Panel
PATA Cable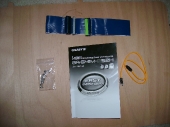 The board itself is pretty standard fair.
You get:
3x PCI slots
1x PCI-e  X16 Slots but the trick is it only works at 4x which is okay for most cards but don't expect the GTX 285 to do anything amazing.
4x SATA 3Gb/s
2x DIMM slots allowing for up to 8 GB's of  DDR2 800 ram (1600 with overclock )
1x PATA
1x VGA, DVI and  HDMI ports
4x USB 2.0
1x RJ45 Gigabit Ethernet port
1x Mic In, Line In, Line Out ports
PS/2 keyboard and mouse
–~~~~~~~~~~~~–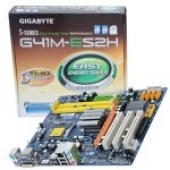 All those juicy specs are nice but what good is it all without the remaining system parts. I chose to create a low priced LAN box, I decided this because this board is ideally suited for this purpose and I was curious how much that PCI-e 16x slot running at 4x would hamper a decent dedicated graphics card.
Processor
Core2Duo E7500 @ 2.94ghz

( I chose this for several reasons namely it was the best performing Intel processor for the price < 100)

Ram
4GB DDR2  OCZ High Performance SLI memory
Hard Drive
250gb Segate SATA drive
Video Card
512mb 8800GT Nvidia graphics card.
Chassis
SilverStone's Sugo SG04-FH case

( A small form factor case,  awesome size and portability which is excellent for a LAN box, check back for a review on it soon!)

Power Supply
Silent Pro 700 Power supply I splurged a little on the power supply because I wanted a modular cable system
Operating System
Windows 7
Booting the machine up was flawless, opening up the BIOS I was a extremely surprised at the amount of customizability and performance enhancement features available.
Inside the BIOS Gigabyte offered the "M.I.T" or "MB Intelligent Tweaker" which houses all sorts of fun settings for tweaking your performance everything from overclocking your CPU to adjusting ram latency and voltage. basically all the overclocking features you would expect from a full power full sized motherboard this left me very surprised because at first glance this appears to be a budget board especially with only a 8x PCI-e slot. It would be good to note that inside the "M.I.T" there are options to overclock the PCI-e bus which will provide a little bit of a performance increase to your PCI-e cards. ( Note: PCI-e Devices are not guaranteed to operate normally if frequency is set higher than the 100Mhz default)
| | |
| --- | --- |
| | |
The other features that complement the optimizing goodness of the M.I.T are the standard set of BIOS features you would expect all motherboards to have like setting your drives master slave functionality as well as setting passwords, boot order, and power management. Checking the PC health tab opens the ability to see your current temperature and fan settings as well as setting fan failure alarms and high temperature alarms.
–~~~~~~~~~~~~–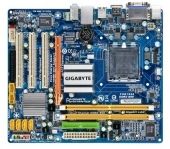 Conclusion:
After getting everything installed and working, ( which I might add was painless ) I gave the system a 48 hour burn in running both cores through a punishing prime 95 session, the machine remained completely stable even in a pretty enclosed case with a  small single fan and stock Intel cooler. I was pleasantly surprised that this motherboard remained cool and stable even after heavy use. Unfortunately my enjoyment of this board is tempered by the poor graphics performance. While a PCI-e slot running at 4x is more than enough for most cards to function it is pretty noticeable next to the same card running at 16x. That being said for a SFF ( Small Form Factor ) motherboard, this board does surprisingly well for LAN parties where small size and only moderate graphics performance are required,  this board would really excel for a home theater PC where cramped conditions and low ventilation are common place.
One of the big surprises of this board was just how customizable it could be. The GA-G41M-ES2H could very easily be  overclocked to you heart's content, just remember when you raise the voltage on something your increasing its heat output as well, increased heat can mean serious trouble for form factor cases common with micro ATX boards. If your in the market for a low cost small form factor motherboard, either for a cheap LAN box or a powerful home theater PC you will find the GA-G41-ES2H a great deal with a solid bang for your buck value.