Take Your Virtual Desktop With You
No, not actually naked, just digitally stripped. You spent a lot of time customizing your desktop environment with everything from favorites, to software preferences; having to use someone else computer can make you feel dirty, and can lead to awkward conversations about a friends web surfing habits. Carrying your laptop is a fantastic choice, but not always practical, and not all of us have the funds available to purchase a supplementary net book, that is why I choose to cyber-squat. I bring my desktop environment with me using Portable Apps.
Portable Apps is a open source program that will keep smaller versions of many essential applications on a thumb drive. It runs when inserted into any unsuspecting saps computer. The best part is, it doesn't have to be special, the program starts at 2mb the amount of space you need is up to you. To start all you need is an empty removable drive.
Literally anything will work, its all up to how much file space and how many apps you want to install.  Now that you have your drive ready and formatted; it's time to download the application. You have three options the base app which as i mentioned is only 2mb, suite lite (47mb) , and suite standard (139mb).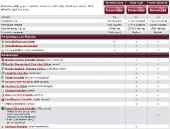 Some of the standard apps you can use to recreate your environment:
Firefox –  Browsing (Chrome is also available)
Thunderbird – for mail
Sumatra – PDF VIEWER
VLC – versatile media player
Utorrent – torrent link handler
IM – utility (there are at least three)
Open Office – productivity suite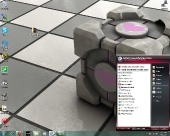 All of these utilities are run directly from the drive leaving virtually no trace of your activities on the host computer. The entire suite will run on any computer that can accept portable drives. There is no installation required. You can completely customize each of the apps and your preferences will be stored. I particularly like to have my extensions for Firefox with me, no more frustration over lost favorites. In addition to the standard applications, there are a number of more advanced applications such as:
Filezilla – FTP
Putty – ssh, ssh2
Win SCP – scp client
clam win – anti virus
Secure password Manager
notepad ++ – advanced text editor
Portable Apps isn't just all business it also has a fair number of games, and media players, including songbird, which is an open source alternative to iTunes. You can also use the available back-up applications to keep files synchronized between your systems and the drive.
Portable Apps has over 80 different programs in nine different categories ranging from Operating systems to media editors. While it certainly won't have the functionality of a complete system, it's a lot easier to carry around. Happy Cyber-Squatting!