Introduction:
Looking for a less flashy case that is still stylish, functional, and fits in/on your desk?  Need a sensible sized case to contain that power thirsty gaming rig?  Then NZXT's VULCAN mid-size tower case is designed for you!  From NZXT's crafted series comes the VULCAN, a micro-ATX motherboard case featuring enough space for 2 ATI 5970 graphics cards, 2 CD/DVD drives, up to 4 Hard drives, and up to 5 cooling fans.  These features in a mid-tower case will please any computer builder looking for a small case to contain a big system.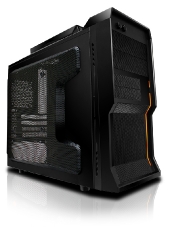 NZXT VULCAN mATX Tower

Join us as we review the NZXT VULCAN amazing use of space and design that enables users to pick hardware that would otherwise dismiss the use of a mid-tower case of this smaller size.
NZXT's take:
Small footprint, Big power

Introducing NZXT's new VULCAN Micro ATX gaming case, the ideal bring-your-own-computer option for professional gaming LAN parties. The Vulcan maximizes power in a compact 16" x 7" x 16.6" body, which is approximately 40% smaller than the typical super full tower. Indulge in the ample space that includes advanced cooling capabilities with 2 x 120mm (one included), 1 x 200mm, 1 x 80mm, a front 120mm intake fan (included), and more space to fit up to two 350mm cards in SLI and Crossfire configurations. The durable non-slip top handle and anti-vibration rubber support idealizes portability, enabling you to easily transport your ultimate gaming machine anywhere.
Specifications:
MODEL
Vulcan Series
CASE TYPE
Gaming mATX Chassis
LED Color
Orange
Front panel connectors
1 x HD Audio/Mic, 2 x USB 2.0, 1 x eSATA
FRONT PANEL MATERIAL
Plastic / Steel Mesh
DIMENSIONS (W x H x D)
406mm (D) x 180mm (W) x 422.5mm (H) / 16" x 7" x 16.6"
Dimensions w/o Handle
406mm (D) x 180mm (W) x 380mm (H) / 16" x 7" x 14.9"
VGA Clearance
>350mm
CPU heatsink height support
165mm ( without side 200mm fan 0
COOLING SYSTEM
FRONT, 1 X 120mm (included)
REAR, 1 X 92/80mm
TOP, 2 x 120mm ( 1 x Orange LED fan included )
SIDE, 1 x 200mm
DRIVE BAYS
6 DRIVE BAYS
2 EXTERNAL 5.25″ DRIVE BAYS
2 EXTERNAL 3.5″ DRIVE BAYS
2 INTERNAL 3.5″ DRIVE BAYS
Screwless Rail Design
MATERIAL(S)
Steel with powder black coating inside
EXPANSION SLOTS
4
POWER SUPPLY
ATX
WEIGHT
5.80 KGS (W/O Power)
MOTHERBOARD SUPPORT
MICRO-ATX, ITX
Join us as we unpack the VULCAN for a closer look inside…