Introduction:

When your looking for a performance memory solution, Patriot is one of the power house's. They have a well known line of Ram Kits, solid state drives, and flash drives. But did you know they also have peripherals? BAM! your horizons are broadened. Today we are going to take a look at patriots USB 3.0 2.5″ Enclosure, Gauntlet.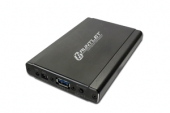 "With an elegant all aluminum design and high quality craftsmanship, the Patriot Gauntlet SuperSpeed USB 2.5″ enclosure merges the speed and performance of USB 3.0 technology with portability. Gauntlet works with your 2.5″ SATA I/II HDD or SSD, offers 5Gbps transfer rates and hot swappable plug and play connectivity. Installation of your 2.5″ HDD or SSD is simple and transforms your drive into a high-performance portable storage solution for use with desktop/notebook computers and USB enabled media players. Use Gauntlet to save and transport critical data or to transfer data from an old HDD when upgrading your system. A built-in One Touch Backup (OTB) button provides an easy way to backup data when used with the included data backup software application."
Simply on past experiences, I have High expectations for this device. Lets see if the gauntlet can hold up to what we have come to expect from patriot.