Cyber Snipa Stinger Gaming Mouse
Cyber Snipa Stinger Gaming Mouse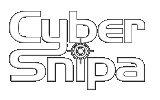 Introduction:
Have you ever played Crysis online and felt that the mouse you were using did not have enough features or didn't perform up to your sniping skill level? Well this is where Stinger from Cyber Snipa comes in. This mouse is one of the higher end mice for a not so high end price compared to its competition. Does this price difference ultimately weigh down on its performance? Let's find out.

First Impressions:
In general, I am very skeptical about laser mice. Do we really need them in everyday use, or are they just something to play around with in games. This mouse looks like it was sculpted not for your average user, but for your hardcore gamer. The lighted sniper rifle imprint which also happens to be the Cyber Snipa's logo on the mouse's surface gives the Stinger quite an "eye candy" look which, which would go well with any rig that you can build or buy.
Specifications:
7,080 frames per second(FPS)
Up to 3200 DPI laser engine
Tracking speed of 45 inches per second(IPS)
9 buttons including 6 macro programmable
Up to 1000Hz(1ms) adjustable report rate
8kb of onboard memory
16 bit ultra wide data path
7 removable weights(20g each)
4 super size easy glide feet
Packaging:
There was nothing fancy in terms of packaging. Although there were no stickers or pouches for the mouse, all of the essentials were there. Nothing extra was added, but nothing was missing either.
These things were included in the package:
1 x Cyber Snipa Stinger Laser Mouse
7 x Replaceable weights in a storage box
1 x Instruction manual
1 x Software/Driver CD
1 x Extra set of low resistance pads
REAL TIME PRICING