FSP Group Everest 900 Watt Power Supply
FSP Group Everest 900 Watt Power Supply

Introduction
The FSP Group Everest 900 is a solid power supply that is aimed at the gaming community. After all, who needs 900 watts to run their E-machine? Anyways, the Everest 900 is a stylish piece of equipment with a modular design so you get exactly as much clutter as you need. The Everest 900 also boasts a large 120mm fan designed to keep the power supply within operating tolerances quietly.
The Everest 900 offers every feature you could want from a power supply including active power factor correction and a high operating efficiency allowing you to use your power hungry components as efficiently as possible. Speaking of power hungry components, the Everest 900 comes with four 12V rails and all of the PCI-E/SATA connectors you could ever need. All this for a reasonable price; it won't break your bank, but it's not exactly cheap either. Let's see if the performance justifies the price starting with an in depth look at what this particular power supply has to offer.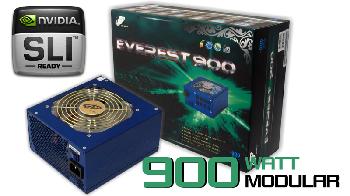 Specifications and Features
From FSP Group:
Compliant with Intel Core 2 Extreme & AMD Athlon 64, Phenom series
ATX 12V V2.2 ready & EPS 12V V2. 92
4-Channel 12V Rails Design
Meets 80PLUS
High Efficiency >85%
Supports SLI & Crossfire highest rendering VGA Cards
Supports high-end PCI-E & SATA power-connector
Environmentally Friendly PSU with Active PFC
Energy Saving on Standby Mode<1W
120mm Variable Speed Fan with Ultra Low Noise
Super Low Nosie 21 dB<20% loading (Silent Guard)
Full Range Input with Complete Protection (OVP;OCP;SCP)
True Total Power
Supports the full range of ATX motherboards.

Active power factor correction that moves the real power consumption / reactive power consumption ratio to .99

If you don't know what this means just know that it saves you money.

Supports a wide range of motherboards, even with non-standard connectors.

Energy efficient power supply.

PCI-E plugs, saving you from using up multiple molex connectors.

Four full 12V rails, for those with even an absurd number of hard drives.

Direct SATA connectors.

120mm fan that keeps your power supply cool and your room quiet.

The large 120mm keeps the power supply quiet. This lets your other components remind you about how annoying their fans are.

Easy to use Molex connectors that don't require a lot of force to unplug.

Stylish cable sleves that help keep the clutter in your case down.

I have no idea why this matters. Rest assured if your kid pokes a paper clip into this power supply he'll be safe...

The power button is lit up in the back to help you find the power switch in the dark. This is a life-saver.

Stylish deep blue case.
Straight from their site:
Efficiency
85%
Input Voltage
100-240 VAC
Frequency
50Hz - 60Hz
PFC
Active
Power Provided
900W
Over-Current Protection
V
Over-Voltage Protection
V
Short-Circuit Protection
V
Line Type
Main connector
20+4PIN
4Pin+12V Power Connector
4PIN/8PIN
4Pin Floppy Connector
1
S-ATA Connector
9
4Pin Connector
6
PCI-Express Connector
6PIN*2,6+2PIN*2
Case Color
BLUE
Chassis Fan
120mm
Noise
<21 dBA
Form Factor
ATX 12V 2.2,EPS 12V V2 .92
Safety Approval
UL, CSA, TUV, CB, CE, FCC, VDE
Dimensions(LxWxH)mm
165*150*86
On the next page we take a closer look at the packaging, power supply, and installation.