Tagan Monolize Computer Case

Author:
Artiom
Date:
2008.06.13
Topic:
Cases
Provider:
Tagan
Manufacturer:
Tagan
Tagan Monolize Computer Case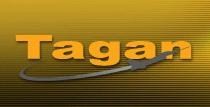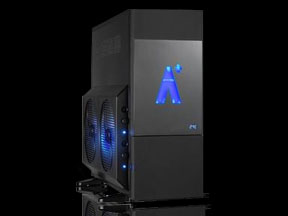 Introduction:
While shopping around for cases there are several important topics to consider:
Will all my equipment fit in it?
Is the airflow well designed?
Will it fit in my workstation?
Do I want screw-less installation?
How many drives can I put in it?
Does it look good?
While most manufacturers try their best to address all these issues, there is no such thing as a perfect case. The only thing for manufacturers can do is try to meet most of the demands with their case design and pray that the costumers like it. Read on and see for yourselves if Aplus Monolize Case from Tagan is that special case that might just meet your demands.
Features and Specifications:
Special Features:
• Super Tower Case with brand-new cooling system
• World record: two blue illuminated 250 mm fans in the left side door
• Separate adjustable (speed) 250 mm fans, also with separate switch off/ on function
• Blue illuminated Aplus logo in front with on/off switch
• Up to 13 disk drives can be mounted inside the case
• ATX and extended ATX main boards fit inside
• Easy drive mounting with 26 screw less rails
• Easy installation of the PCI cards with clip system
• 4 Thumb screws on the back for easy opening the case
• Manual in English, German and French language
• In accordance with RoHS
Specifications:
Quantity of 5,25": 5 bays
Quantity of 3,5" : 2 bays x external, 6 x internal
Cooling system 2 x 250 mm side fan, separate adjustable (and on/off)
Fans 1 x 80/92/120 mm in back and 120 mm in front
Fans optional 7
PCI slots 2 x USB 2.0, 2 x audio and IEEE 1394 Firewire on right side
Additional connectors Standard ATX, extended ATX (12"x13"), also for MP Dual CPU
Supported main boards PS/2 Standard
Power supply (optional)
Accessories 26 rails for the disk drives, various screws and spacers, piezo speaker and cable ties.
Dimensions: 220x220x30 mm
Bearing Type: Sleeve Bearing
Rated Voltage: 12.0 VDC
Start Up Voltage: 7 VDC
Rated Current: 0.30 A ±10%
Rated Power: 3.60W ±10%
Rated Speed: max 800 RPM ±10%
Air Flow: 150.49CFM Max.
Static Pressure: 0.97mmAq
Noise Level: 32.1dBA
Life Expectancy: 30000Hours at 25℃/65%RH
Real Time Pricing: