Thermaltake Armor+ LCS Chassis
Thermaltake Armor+ LCS


Introduction:
For some people, a computer case is just something that holds their computer. But for others such as myself, a computer case is much, much more. Today, Thermaltake sent us their top of the line case for the Armor Series. The Armor+ LCS. With an integrated liquid cooling system, seven hard drive bays, a removable motherboard tray, and many other features we will discuss, the Armor+ leaves little to be desired. I know, I know, it sounds too good to be true – stop drooling. As we all know, there is much more that goes into a computer case than looks. You look for the ability to upgrade your hardware, cooling, and many other things. Standing nearly two feet tall and weighing in at just under fifty pounds completely empty, this is one of the biggest and heaviest cases I have ever come across. Now the question remains, is bigger better?
From Thermaltake:
"With the pre-integrated liquid cooling system (radiator, pump, tank, water-block, tube) in the chassis, user can minimize installation time while provide best cooling performance on the CPU and other heat source."
Our Interpretation:
Bad english aside what you get here is a very solid case, with tons of expandability and the benefits of liquid cooling already built in.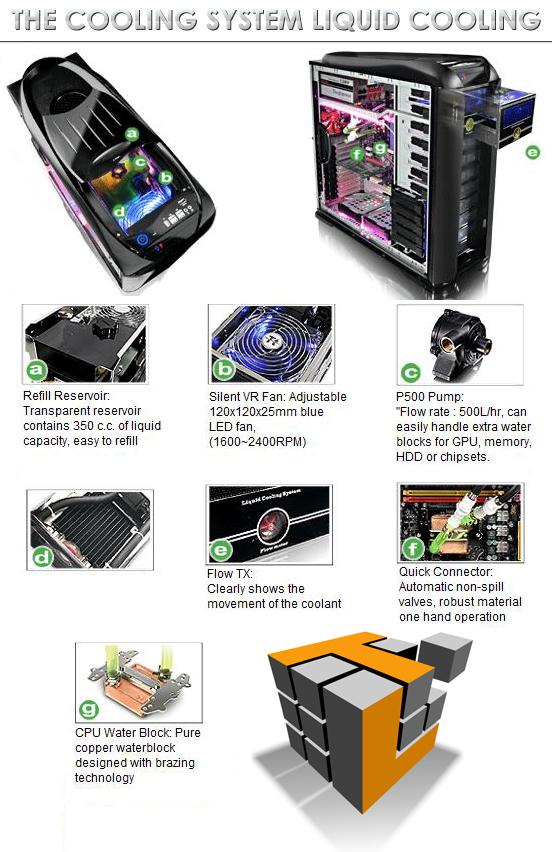 REALTIME PRICING