Reviewed by James 06.23.2003
Introduction and Company Info
Today, pre-modded cases are becoming more and more the norm, at least among geeks. This saves individuals the risk, time, and expense of modding cases themselves. Vendors that offer pre-modded systems are seeing fairly consistent growth in this niche market, indication that new companies are likely to join the competition, offering innovation and lower prices, so the theory goes. Compucase is one of these companies. Founded in 1991 and starting well, they have had great success lately with 60% sales growth in each of the past three years.
In 2001, they founded a division Herolchi (HEC) to make quality power supplies to enhance their products in the computer case market. Their growth can be attributed greatly to increased demand from their OEM and ODM buyers. Unfortunately, the OEM's and ODM's have non-disclosure agreements (NDA) with CompuCase, presumably so the OEM's can make their cases look self- manufactured when in fact they are not. Thus we will not know, at least easily, who makes the cases. Though of course you can always browse the net looking for cases that look exactly the same as CompuCase's and be fairly sure it was manufactured by them.
Nevertheless, we can be sure that CompuCase is making a quality product by the fact that their sales are increasing so dramatically in a stale economic climate and without a long-term name to accompany them in the computer industry, like other monoliths (MS, Apple, Intel, etc.). The question still remains: how good are these cases? Are they great, or just good enough to be praiseworthy? Hence, TechWareLabs brings you our opinion.
The cases to be reviewed are the CI-6919 (CI for the remainder of the article) and the LX-6A19 (LX) (Obviously OEM's are their major buyers). Along with these cases are several power supplies: with the CI came the HEC 525W ATX with two ball bearing fans, with the LX came the HEC 300W ATX with low noise fan, and in addition to the two cases came the HEC 400W ATX, also with two ball bearing fans.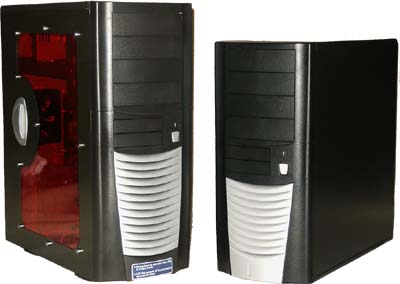 Left: CI, right: LX
Yes, apperances can be deceiving. These are in fact two distinct cases...look carefully. First, some quick facts about the two cases before more specific details are given:
| Model Name: | CI | LX |
| --- | --- | --- |
| Width | 210mm | 210mm |
| Height | 522mm | 460mm |
| Depth | 430mm | 430mm |
| Weight | 11.9kg | 8.00kg |
| 5.25" (Int./Ext.) | 4/0 | 4/0 |
| 3.5" (Int./Ext.) | 2/4 | 2/5 |
| Fans (Front/Back) | 2x80mm(optional)/1x120mm | 1x120mm(optional)1x120mm |
| MainBoard | ATX, Full ATX, MicroATX, SSI | ATX, MicroATX, Intel P4 |
| Front Access | 2xUSB, 1xIEEE 1394 (Firewire), Headphone and Mic | 2xUSB, 1xIEEE 1394 (Firewire), Headphone and Mic |
| PCI Slots | 7 | 7 |
| Lockable | No | Yes |
| Buttons/Indicators | Power, Reset/Power, HDD | Power, Reset/Power, HDD |
| Accessories | manual, drive rails (attached to case), assorted screws (inluding for the mobo), and 2 pull ties | manual, drive rails (in a separate box), assorted screws for the mobo, and 2 pull ties |
| Colors Available | Black, Silver | Black, Silver |
| Price | US$59 with window | US$39.00 (with optional screwless PCI design) |
All prices are taken from an online discussion with the Product Manager for CompuCase, Adrian Lin. They differ slightly from those at KRI Computers, the reseller for CompuCase.