Cooler Master RC-1100 Cosmos S Case
Cooler Master RC-1100 Cosmos S Case
A little bit of background:
Today we will be taking a look at the Cosmos S RC-1100 case from Cooler Master. Cooler Master is known for providing a huge array of different items, all of which are high quality for the devices level. Some of the items they produce are cases, power supplies, VGA coolers, and very quiet case fans. Before we get started, let's explore where this case originated from. The predecessor to this case was the Cosmos RC-1000. The goal of the legacy Cosmos RC-1000 case was to first provide a very quiet chassis while keeping the case as cool as possible at the same time; a long time standard for Cooler Master. The case even had extra soundproofing material added to greatly increase the noise suppression capability. This case was made out of steel and was much heavier than the Cosmos S case, the biggest things to keep in mind are that the cases have identical outside dimensions, yet the aluminum Cosmos S version is 3.1kg lighter than the Cosmos case; this makes it almost 20% lighter. This should be enough of a background, if you wanted a review of the original Cosmos case, you would be reading it now. Below I have supplied several pictures of the original Cosmos RC-1000 case in case you wanted to get more familiar with the Cosmos S's roots before moving on. I know you want to get to the case in question, so let's make some moves and get to the revamped Cosmos S case.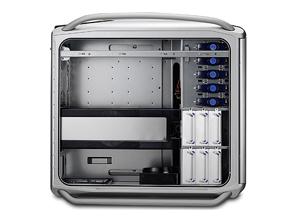 But before we move on, let's visit the specification chart from Cooler Master's web site:
Available Color
Black
Dimension (inches)
(W) 266 x (H) 598 x (D) 628mm
Weight
Net Weight: 13.8 kg; Gross Weight: 17.8 kg
Material
Chassis: Al. Appearance: Al (side panel: 1.5mm)
Motherboards
Extended ATX, ATX
5.25" Drive Bay
7(Exposed)
3.5" Drive Bay
4(Hidden, converted from 3x5.25 inch drive bays)
I/O Panel
USB 2.0 x 4, IEEE 1394 x 1, eSATA x 1, MIC x 1, Audio x 1(support Intel HD / AC 97 audio)
Expansion Slots
7 slots
Cooling System
Front fan(intake): one 120x120x25mm, 1200 rpm, 17 dBA (included),
Top fan(exhaust): one 120x120x25mm, 1200 rpm, 17 dBA (included),
Top fan: 120mm x 2(optional),
Rear fan(exhaust): one 120x120x25mm, 1200 rpm, 17 dBA (included),
Side fan(intake): 200x230x30mm, 900 rpm, 150 CFM(included)
Power Supply
Standard ATX PS2 / EPS 12V (optional)
Optional Component
Transparent side panel,
Fan bracket
Other
Keep-out requirement for CPU cooler installation:
At least 5.7 inch(145mm) separation between motherboard and the side panel of COSMOS S
OK, let's move on to the next page!
Get the Cosmos S from one of the retailers below