Glacialtech Altair 380 Media Center PC Case
Glacialtech Altair 380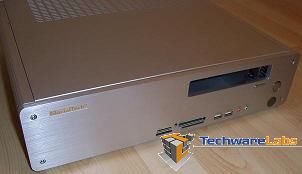 Introduction:
Glacialtech has sent their Altair 380 chassis targeted towards the HTPC/Media Center PC consumer to be reviewed. So with several media cases and system reviewed lately, can one case be much different from others? Well, the Altair A380 from Glacialtech is quite a bit different from other HTPC/media cases in size, features, structural build, and layout. Lets take a closer look, to see what we mean.
The Altair A380 is a very clean design with very little in the rhelm of buttons and switches on the front of the case. We have the typical compliment consisting of a power button and eject button for the optical drive, and that is it for the front of case. Now some would say I want more options on the front of the case to modify audio or maybe video, but to be honest, when it comes to media PC cases there isn't a need for a lot of buttons because the windows media center should be able to modify all these settings for you.
Specifications:
The case comes with two 60mm case fans and a micro ATX 270watt power supply, which makes the case more attractive to those of you who have an older motherboard and processor laying about that can easily be mounted in the case. The other great feature about the case is the fact that it is capable of supporting both Micro ATX and standard ATX motherboards giving you the flexibility to use an energy efficient platform or something with a bit more power.
Case type:
HTPC, MCE
Color:
Glacier Silver, Rock Black
Net weight:
6 Kg
Expansion slot:
2
Dimension (W×H×D)
430 × 100 × 380 mm
Drive Bays
1 × 5.25":2 × 3.5"
Power Supply
270 with included
MotherBoard:
ATX, Micro ATX
I/O port:

USB2.0 × 2
Audio & Speaker port
52 in 1 card reader
IR receiver

Cooling system
Dual 60 × 60 × 20mm fan, 1500 rpm. 19 dBA
Material:
6063 Aluminum & SECC
HDD cooling:
60 × 60 × 20 mm fan, 1500 rpm, 19dBA
Control
IR remote control built for Windows Vista