Lian Li PC-6010
Reviewed by Shadrach 05.04.2003
A very special thanks to Lian-Li for supplying this hardware.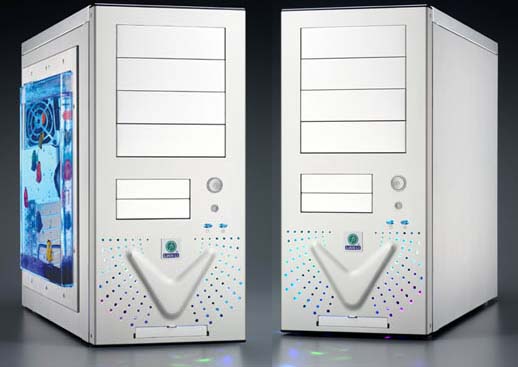 Case Specifications:
Dimension: 210x450x490mm(W,H,D)
Drive bays: 4x5.25",2x3.5",4x3.5" internal
Fan: 3 x sleeve fans included
M/B type: ATX & Pentium 4 (MAX SIZE: 12"x9.6")
Front USB: 2 ports (support USB 2.0)

PC-6010
Slidable M/B tray
Super bright Hard drive and power LED and dual LED bar at the front panel
Dual Multi-color LED light effect at front panel
Tool- less detachable front panel
Initial Thoughts:
The Lian-Li -6010 is a strong contender for the great case award. Although, one major hit against the case came not long after assembling it, minus the aquarium. The case was assembled with motherboard and all other components to get a feel of fit and finish, ease of installation, and how well it performed temperature wise. The pc-6010 has some very nice features that add to its appeal. Front bezel lighting that alternates colors in many patterns from red, blue, green, purple, light bluish green and back. All lighting is done using LED's that plug directly into a power molex from the power supply. So let's get on with the review...
Lighting effect in the Bezel:
The faceplate lighting in the lower portion of the case is the very first thing you will notice about this case. It is a sharp effect that sets this case off out of the box. No installation required other than plugging in the power connection. The LED effect cycles between seven colors, red, blue, green , red and blue, green and blue, red and green, then red with blue and green. The combined LED lighting creates some very nice colors.
The light cycles
Front USB Ports:
Front USB ports are the best innovation for the computer case in the last two years and the PC-6010 will not be left behind. Where is does fall short is in the fact that there are no sound, microphone or firewire receptacles. The addition of these however requires running wires from the rear of the case since sound and microphone ports usually do not have headers on the motherboard or sound cards to internally re-route wiring.