Close Window
Print Article
Thermaltake DH-101 Home Theatre PC Case
Author:
Michael Lynch
Date:
2008.09.02
Topic:
Audio
Provider:
Thermaltake
Manufacturer:
Thermaltake


Page 1
---
Thermaltake DH-101 Home Theatre PC Case

Introduction:
Recently the crave for Home Theatre PCs (HTPC) has been becoming more popular. Today we are going to take a look at the Thermaltake DH-101 Home Theatre PC Case. Thermaltake has rolled together a series of features and have put them all into this one stunning case. With a nice brushed aluminum front and a black piano finish, the Thermaltake DH-101 is bound to be an eye-catcher.

Thermaltakes Take:
Thermaltake has introduced the new digital Home Theater PC Chassis, the DH (Digital Home) series. Designed with the latest multimedia module and high quality piano mirror coating front panel, the new Digital Home series shines with elegance and charm!
DH101 was designed with the latest LCD Display that not only supports multiple languages, but also allows different display selections with its blue glowing background.
DH101 not only comes with high quality external design, but the internal structure and thermal modules further overturned the common impression of limited spacing and ineffective thermal solutions towards home theater PC chassis. The 12cm front fan and the double 6cm rear fan included in the unit saves the chassis from heating concerns. Up to three 3.5" and one 5.25" drive bays is also available for upgrading. The single insert/exit button on the front panel makes disc changing easy for users. DH Series HTPCs are the high quality chassis with delicate body structure and thoughtful internal space designs.
The high performance thermal management and multifunction supports of DH 101 Home Theater PC Chassis will definitely be the best choice to build your own digital living environment, with high-tech fashion and aesthetic elegance.
-Thermaltake

Features:
Piano mirror coating with aluminum front panel design
Built-in Media LAB LCD with hot keys module (Windows Vista Ready):
1. LCD capable of display any language
2. 10 functional hot key bottons
3. Vol. Control Knob and remote control
Compatible with Windows VISTA, MCE remote and keyboard
High efficiency ventilation:12cm silent fan in front & dual 6cm fan in rear
Supports ATX form factor & mATX form factor
Supports ATX PS2 power supply
Specifications:
Case type

Home Theater Media PC

Suitable motherboards

ATX and mATX

Bays

1 x 5.25" external & 3 x 3.5" internal

Expansion slots

7 (depending on motherboard)

Front connectors

2 x USB 2.0, 1 x Firewire, Microphone & Headphone jacks

Media kits

Built-in Media LAB LCD with 10 buttons hot keys module

Cooling

- Front: 120mm fan x 1, 1500rpm & Rear: 60mm fan x 2, 1800rpm

Weight

7.5 Kg

Dimensions

426.5 x 435 x 153.5 mm / 16.8 x 17.1 x 6.0 inch

Material

SECC steel body & Aliminum case front

Available models

DH101 - VF7001BNS (VFD & Remote)
DH101 - VF7000BNS (w/o VFD or Remote)

Page 2
---
Thermaltake DH-101 Home Theatre PC Case

Packaging:
The Thermaltake DH-101 Digital Home Series HTPC came packaged in the standard thermaltake packaging. With a nice attractive photo of the case on the front and any information you would want located on the remaining sides. Like most case packaging's, there are handles located on both sides and even the top.
Click to View Larger Image
The computer case itself was packed very carefully, surrounded with at least an inch of foam, and placed in a cloth bag, it would have to take allot of abuse in order for this case to be delivered damaged.  
Click to View Larger Image
Contents:
MediaLabs IR Remote Control (Batteries included)
MediaLabs Software CD (iMon and iMedian)
Quick Install Guide
Bag of Screws (Motherboard screws)
Tac Cloth (cleaning black paino finish)
User Manual

Page 3
---
Thermaltake DH-101 Home Theatre PC Case

A Closer Look (External):
The faceplate is made out of a brushed aluminum material. The side panels and the top panel are formed together in a U shape to function as a case cover which has a black piano finish. The base of the case also has this black piano finish on it.
The Thermaltake DH 101 has superior ventilation. As you can see in the pictures below there are ventilation holes all over the case. These are placed in strategic places, such as over the CPU and Graphics Cards, and place on both sides. Included with the case is a 120 mm fan located in the front of the case and two 60mm fans placed in the back.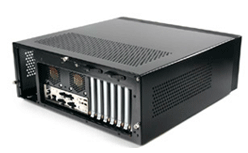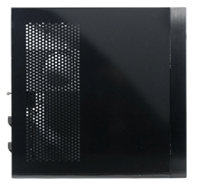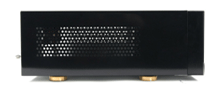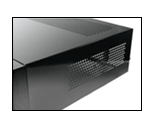 Shown in the pictures below are some features that make this case unique. The power button is located in the bottom left corner; it's a small circular button about the size of a nickel which is surrounded by a small light circle to signify the device is on or off. In the center of the case is a small panel with a push panel door which hides the front I/O ports. The front ports include two USB 2.0s, one Firewire and a pair of jacks for a microphone and headphones. Located on the opposite side of the case (the right side), is the product name along with a small hole for the IR receiver for the remote included. The cool part about the DVD Drive is that it is completely hidden by the door, at first I was skeptical about the door because I was thinking that it may not open and close correctly, I was wrong and it works wonderfully.





As part of the front panel media, the Thermaltake DH 101 seems very well equipped. With a fully functional graphical VFD, the screen provides everything you would want just shy of being an LCD screen. Along with the media screen is the media labs buttons, these include all of those essentially needed.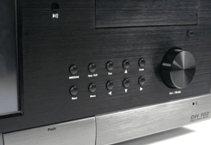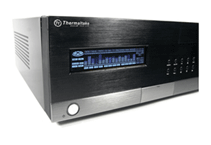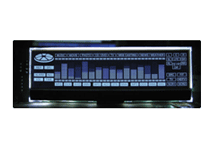 Page 4
---
Thermaltake DH-101 Home Theatre PC Case

A Closer Look (Internal):
Holding the chassis' cover on is three small thumb screws, upon removing these and opening up your case you have the site of a rather large interior. Compared to other Home Theatre PC cases this is among the larger, although I would not consider it to be too large. The case is large enough to place a full ATX board and your average sized power supply lying sideways. The back is secured in place by a steel rod that runs along one of the sides and a steel bridge support attached to the front drive bays and the rear of the case. This support bridge goes directly above your computer and has room to place an 80mm fan on it, the downfall of this being placed right over your processor is that most of your rather large CPU coolers will get in the way and you will have to remove the bridge.



The rear card slots are secured in by a tool-less design, it is hold down by levers in the back that help hold down the cards in place and cannot budge until the lever is moved.

The front portion of the case contains tool-less 3.5" and 5.25" drive bays. Along with the hard drive cage being tool-less it is also removable.



Click to View Larger Image

Page 5
---
Thermaltake DH-101 Home Theatre PC Case

Software and Media Lab:

The Media Lab Kit is the heart of the system, as it offers everything that you would want in a Home Theatre PC. With the availability to complete control your computer using just a remote control, with the control of your computer at your fingertips. The Media Lab Kit was actually not designed specifically for the Thermaltake case but was integrated into it flawlessly. The Kit, made by SoundGraph initially released the iMON Ultra Bay, which places this media device into two of your front 5.25" drive bays.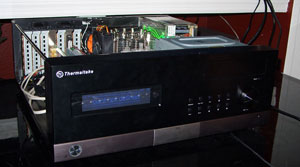 Click to View Larger Image
Located on the right side of the front panel are the controls that are used by the media lab kit, these controls are those like: play/pause, stop, forward, backward, volume control, etc. Located on the left side is the graphical VFD, which is capable of displaying anything from text to simple images. One feature that makes this graphical VFD so unique is that it can display in a variety of fonts as well as sizes. I was able to set it to display the time in a rather large font and am able to read it from a pretty far distance. Not only can the display show text, but it can also act as a visualizer when playing music.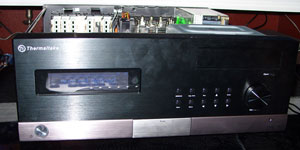 Click to View Larger Image
The IR remote that came included with the kit worked flawlessly. As there are some limitations of the placement of the box because of the line of sight issue of the IR remote, there wasn't much of a difference with this IR device than any other on the market today. As it would have been nice if the remote was bluetooth, they opted not to because of price I am guessing.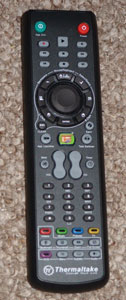 Click to View Larger Image
Included are two separate pieces of software. First there is the iMon, which is a monitor for the front panel itself, allowing you to change settings of various things. Second we have iMedian, which allows you to watch movies, view photos, play music, etc from a single user interface. iMedian strongly reminds me of Windows Media Center.


Page 6
---
Thermaltake DH-101 Home Theatre PC Case

Installation:
The installation of the motherboard was quite easy as there was plenty of room to work with. The chassis' back plate was appropriately labeled to state which motherboard screw holes were necessary to be used depending on the motherboard you are using. The DVD Drive and the hard drives went into place with any problems and the use of the tool-less design was superb. One thing that I did happen to notice was that the hard drive partially blocks the 120mm fan located in the front of the case. Although this might be seem bad, it does help to cool the hard drives.
The power supply fit in the case just as if it was any other case, I don't see there being any problem with other power supplies, although I have heard that larger power supplies (1200+ watts) might not fit properly. But there is no need to install such a large power supply in a home theatre PC, so this problem should rarely occur.
The installation or hook up of the front panel display was also rather easy. The only thing required to hook it up was to simply plug in two things, one the USB data cable, and two the 24pin motherboard inline power plug.
Click to View Larger Image
Conclusion:
The Thermaltake DH-101 is a spectacular case. It offers everything you need and more in a Home Theatre PC case. The brushed aluminum and black paino finish give it a stunning look and will fit perfectly in with your home theatre entertainment center. The installation of the components into the case went very smoothly. The MediaLab software worked perfect with the front panel display and could do everything I wanted it to do and more. Overall I had no issues with either the installation or the ease of use, which is why I would have to say that this is truly an amazing product. Although the price tag might be a little hefty, if you are looking for a nice fully functional Home Theatre PC case then the $209.99 is a fair price.


Copyright © 2005 Techware Labs, LLC
All Rights Reserved