GlacialTech Igloo 5710 CPU Cooler
GlacialTech Igloo 5710 CPU Cooler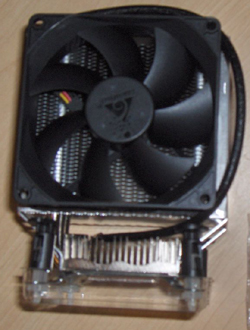 You may remember Glacial Tech from our review of their impressive power supply which we reviewed here. We decided to test out their other products and have in our labs the 5710 which is marketed as a quiet cooler with average performance. As a power use with a dual CPU setup I have personal experience with just how much noise some of these systems produce and would readily accept a cooler designed to cool adequately and yet quietly.
Lets take a look at the new Igloo 5710 cooler from GlacialTech and see if it does a good job, and is quiet.
What's In the Box?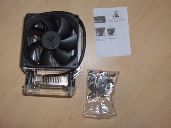 Comes with pre-installed LGA775 bracket, and optional AM2 bracket.
Specifications:
Intel LGA775:
Pentium D
Prescott
Intel Core 2 Duo
Intel Core 2 Extreme
All Celeron

AMD Socket 754, 939, 940, AM2
Sempron Series
Athlon 64 Series
Athlon 64 FX
Athlon 64 X2 Dual-Core series
Athlon X2 Dual-Core series
Opteron series
Dual-Core Opteron series
Second-Generation Opteron series
NOTE: The specifications included inside the box say that this cooler is compatible with Socket F which is only half true. AMD in its infinite wisdom say fit to design two different socket F brackets, one which is 3.5 inches between posts and one which is 4.1 inches between posts. The 5710 is only compatible with the 3.5 inch version.
Features:
Uses less material to protect the environment
Lower noise fan to provide quiet working atmosphere
92mm fan with 1B1S bearing system
Up Close and personal: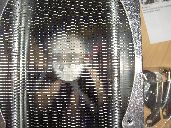 The Igloo 5710 is available in a silent version, which we tested in this review and a speed controlled version capable of greater cooling. We tested the GlacialTech Igloo 5710 against four other competitors, the Thermaltake MaxOrb, Thermaltake V1, Nexus LXM-8200, and the stock Intel heatsink. The coolers were tested using AiT Cool Silver Thermal Paste on idle and on load. Prime95 was used to achieve 100% load. We installed a 92mm fan grille on the cooler for safety during testing. The results were as follows:
CPU cooler: Idle Temp: Stressed Temp:
Thermaltake MaxOrb 27-28 40
Thermaltake V1 28 41
Nexus LXM-8200 28 43
GlacialTech 5710 28 44
Intel Stock 30 47
As you can see, the GlacialTech did not do as well as the others at load, but it is one of the quieter coolers. We haven't been told the price of the cooler, but we expect it to be cheaper than the other coolers, since it is a smaller cooler and uses fewer parts. At the price point the 5710 is likely to be introduced at and considering its quiet operation it could be very popular. Almost all modern CPU's are designed to withstand very high temperatures and 44C is well within any CPU specifications.

Conclusion:
The GlacialTech Igloo 5710 CPU Cooler is a nicely developed CPU cooler meant to be smaller and quieter. For the serious gamer or overclocker, we cannot recommend this cooler, however, for the average user who just wants silent cooling better than their stock Intel, we believe this product will deliver. In the end the Igloo 5710 delivered to us adequate cooling and quieted our rig from the raging sound of the stock heatsink which still delivering better performance.