Vantec AeroFlow FX 120 CPU Cooler
FIND THE FX120 ONLINE
Introduction
When it comes to cooling, nothing is quite as important as a good CPU cooler. Without proper cooling, your CPU could easily overheat, decreasing performance and reducing the life of your CPU. Here we have Vantec's AeroFlow FX 120 high-performance CPU cooler, lets see how it fairs.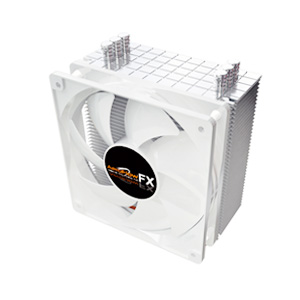 Vantec and the AeroFlow FX 120
Premium Copper Heat-Pipe Direct Touch (HDT) CPU Cooler with 120mm PWM Fan
The Vantec AeroFlow FX 120 is a high performance CPU cooler. It incorporates a specialized 8mm diameter copper heat-pipe for optimum heat transfer. With its unique Heat-Pipe Direct Touch Technology (HDT), the heat-pipe is in direct contact with the processor and minimizes thermal resistance. Combine with a powerful 120mm PWM fan and fan vibration dampener, the thin & lightweight heat sink design allows the fan to easily dissipate the heat accumulated and minimizes noise. Excellent compatibility with its 3-in-1 mounting bracket, the Vantec AeroFlow FX 120 is a perfect choice for keeping your processor cool.
Features
Heat-Pipe Direct Touch Technology (HDT)
Three 8mm Diameter Heat-Pipe
Fan Vibration Dampener
120mm High Performance PWM Fan
3-In-1 CPU Mounting Bracket
Thin & Lightweight Heat Sink
Supports Intel Socket 775/478 & AMD Socket AM2/754/939/940 CPU

Specifications
| | |
| --- | --- |
| Model: | VAF-1225 |
| Heat Sink Material: | Aluminum |
| Dimension: | 84x120x159mm |
| Weight: | 680 g |
| Heat Pipe Size: | 8mm in Diameter |
| Number of Heat Pipe: | 3 |
| Fan Dimension: | 120x120x25mm PWM |
| Bearing Type: | Fluid Magnetic Bearing |
| Fan Speed: | 1000 ~ 2200 RPM |
| Airflow: | 72.1 ~ 99.6 CFM |
| Noise Level: | 20 ~ 32 dBA |
System Requirements:
Intel 478 (Celeron, Celeron D, Pentium 4)
Intel 775 (Celeron D, Pentium 4, Pentium 4, Pentium D, Core 2 Duo, Core 2 Quad, Core 2 Extreme)
AMD AM2 (Sempron, Athlon 64, Athlon 64 X2, Athlon 64 FX)
AMD 754 (Sempron, Athlon 64)
AMD 939 (Athlon 64, Athlon 64 X2, Athlon 64 FX, Opteron, Dual-Core Opteron)
AMD 940 (Athlon 64 FX, Opteron, Dual-Core Opteron)
REALTIME PRICING