WaterChill by ASETEK
Review by:
Matthew Homan
on 2004.12.11
Introduction
Thinking about over-clocking your CPU and considering a water cooling kit? ASTEK now has a complete water-cooling kit to offer. With processors increasing in speed every year, the amount of heat dissipated from processors is unfortunately rising as well, so cooling the CPU is becoming more difficult with standard heatsinks and fans. So, when considering over-clocking that latest gaming system creation, keeping the processor cool is the top priority. Techware Labs has reviewed several water cooling systems in the past, and the one sent to us from ASETEK is definitely on the high end of the spectrum, and worth every penny.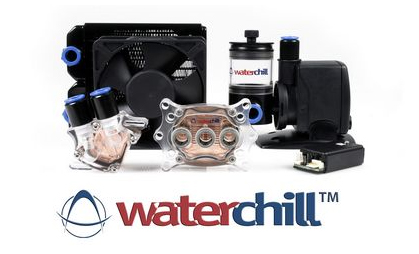 Kit Contents
High Flow water pump w/ reservoir
Three different types of CPU cooler blocks to attach to the single CPU Copper block
5' of ½" tubing to connect all the items in the kit together
One 120mm radiator
One 120mm fan
One power system

Click Photo for larger picture.
ASTEK is using a new pump/reservoir design in the WaterChill kit, as shown in the photo below; the reservoir connects directly to the pump, which frees up a little more space inside the computer to run tubing. The pump draws its power from a go-between attached to the computer's power cord, where it attaches to the PSU. From the go-between, a power line runs to a resistor that has the pins for the 120mm fan and LED. The resistor is not cumbersome in design, but it is one more item that will have to be hidden inside the computer case. The resistor box must also be connected to a floppy drive power cord.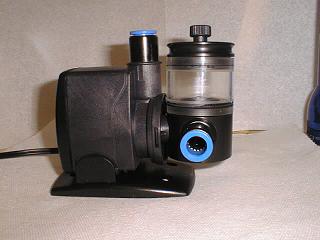 Click on photo larger picture